Mobile Legends: Bang Bang (MLBB), the most popular and most played MOBA game in Indonesia. Its Announced its 5th birthday celebration this September with the theme 5hare Fun, Forge Legends. This year MLBB celebrates its 5th anniversary and as a form of our appreciation to all the players who have given a lot of support to MLBB, we present a Fun Match entitled Legends Assemble.
In addition to activities that offer many prizes to its players, such as new skins, new heroes and other exclusive items. At this moment MLBB also holds a Legends Assemble themed fun match.
This special anniversary match will invite several pro-players and ex-pro-players from two major esports teams, namely EVOS and RRQ. The Evos team will consist of Funi, Rexxy, Revicii, Oura and Donkey, while the RRQ team will be represented by Vivi, Wizzking, Taka, Barier and Quinnie.
Legend Assemble, Pro Player Reunion Event in Mobile Legends: Bang Bang Anniversary Event Series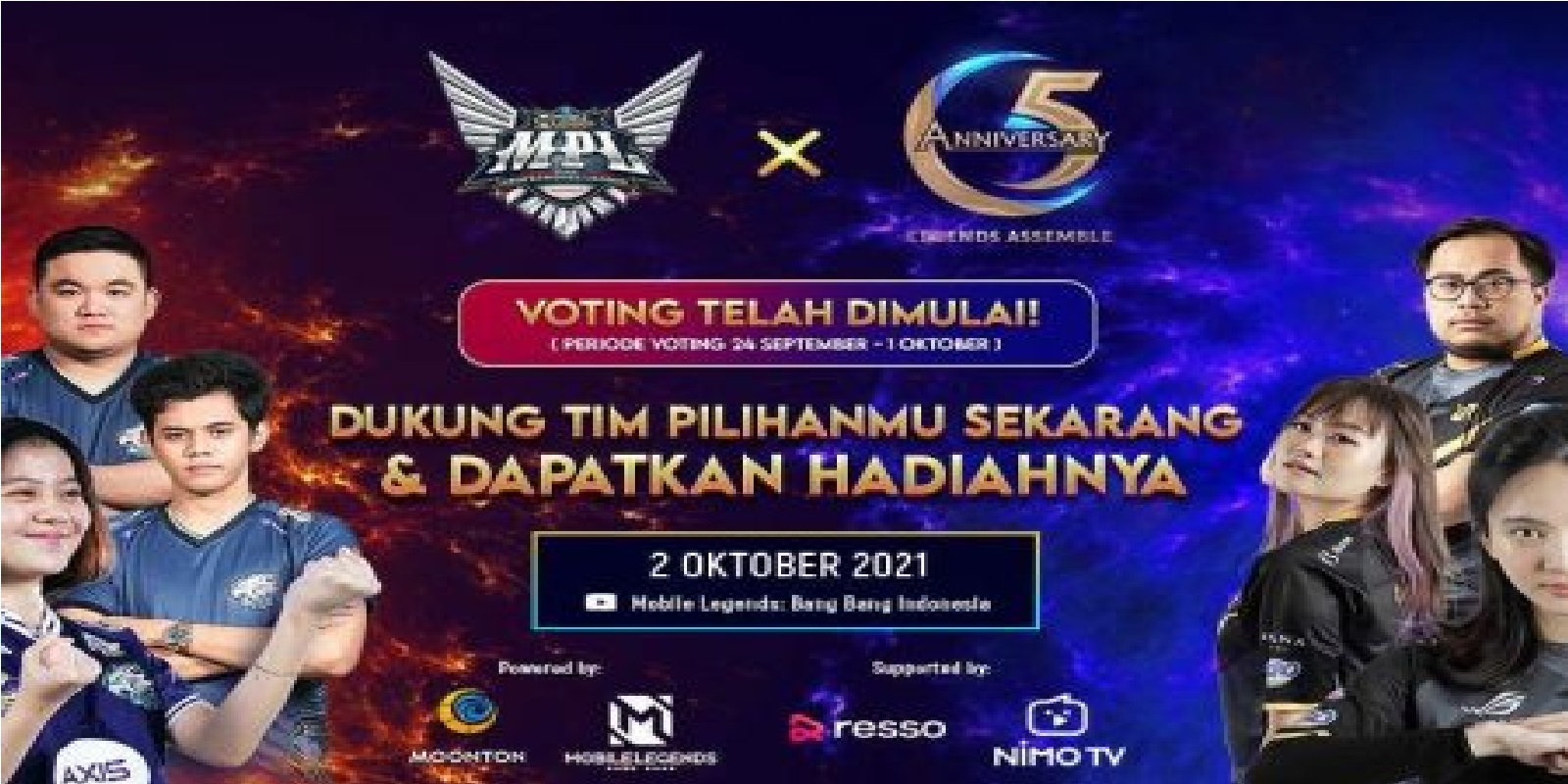 Players will be able to see the extraordinary games of the two big teams in MLBB. They are EVOS and RRQ and we hope this can be the best offering for all MLBB users," said Summer Ding, Head of Indonesia Marketing – Moonton Games.
In this Legends Assemble, a vote is held to choose which team will win. Voting is open from September 24 to October 1 to select their respective flagship team.
Players who vote every day have the opportunity to get an exclusive prize from MLBB, namely: Layla Blazing West Permanent Skin. If they guess correctly, players will also get an additional prize in the form of an Epic Skin Trial Card + 100 Magic Dust.
MPL x Legends Assemble Live Stream
Fun match live stream will be held on October 2, 2021 before Mobile Legends Bang Bang Professional League (MPL) Season 8 starts, which can be watched on YouTube Mobile Legends: Bang Bang Indonesia and Nimo TV. To add to the fun, there will be many prizes that can be obtained, including the Miya Anniversary Skin and also the Legend Skin.
No less lively, MLBB and Resso present a music group that is currently popular in Indonesia, Weird Genius, who will attend and perform the song for the 5th Anniversary of MLBB.
Arcade Festival
There is another interesting event that all players can participate in, namely the Arcade Festival. This event starts from 27 September to 15 October 2021 where almost all arcade modes will be unlocked during this period. This event is divided into 2 phases, namely:
Phase 1
Mayhem Mode – 27 September 2021
Brawl Mode – October 1, 2021
Tower Defense – October 3
Phase 2
Shadow Brawl Mode – October 5, 2021
Survival Mode – October 7, 2021
Mirror Mode – October 9, 2021
Ravage Mode – October 11, 2021
All players who play this arcade mode at least once a day will have the opportunity to get in-game items from MLBB. Namely Dozens of Moon Stones and Epic Skin Trial Cards as well as the opportunity to get permanent skins.
Keep up with the excitement of the 5th Anniversary of MLBB and don't forget to follow IG @realmobilelegendsid and Facebook Mobile Legends: Bang Bang for more updated news. Keep practicing, play wisely and don't become a toxic player!
Don't forget to follow our social media on Instagram and also subscribe our youtube channel