Mobile Legends will continue to release many new Skins that you can have if you want. From here you will know that there are 6 Best Lolita Skins in Mobile Legends (ML), to make the hero strong. Even a cool appearance for players to wear in-game. Especially getting to know more about the 6 Best Lolita Skins in Mobile Legends (ML), a very strong Tanker type hero with his giant hammer. That way, the Hero will definitely have a very impressive appearance, because the Skin and the effect will definitely change.
Everything that appears in the Mobile Legends game this time is a lot, even it is also included in the category called Event. Missions and also some prizes that you can get later, it turns out that it is indeed quite profitable for us to have in the game later.
Moreover, for the presence of a list of special Lunar New Year Skins in Mobile Legends, surely you will be more familiar with this event now. So that later when many new events have been released and some cool things now, players can be even more excited about this.
Steel Elf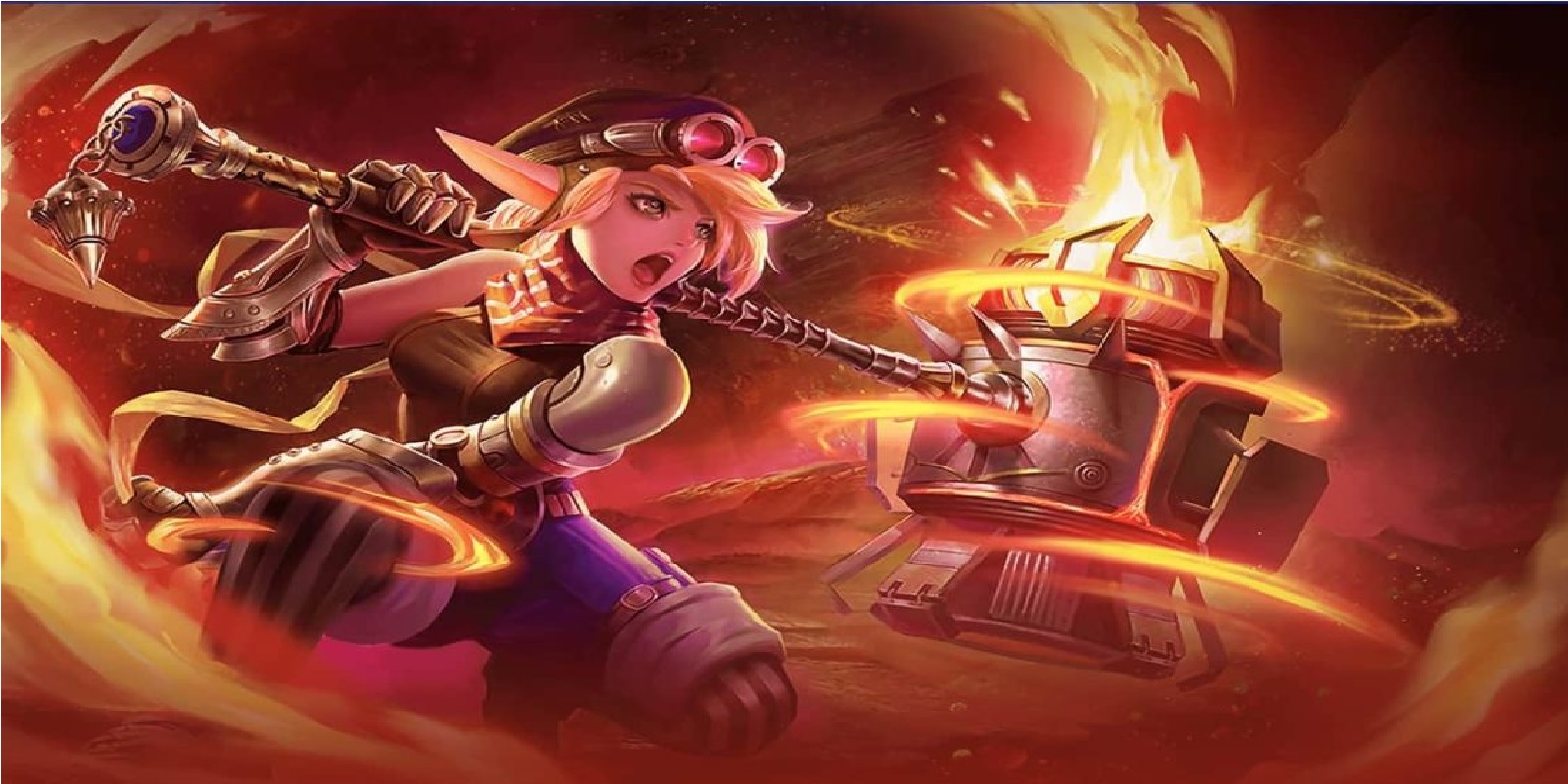 Lolita is an Elf who has a unique skill in herself, always playing with Machines and Experiments. That's what makes Lolita finally able to use a Basic Skin called Steel Elf, of course it can be seen from her own name now.
Because she often does things with machines, Lolita finally gets the nickname when she uses this shirt. If you can see it in detail, you will immediately see that what Lolita is wearing is a mechanical suit.
The hammer also looks like sturdy iron which is very strong, even on the back of the hammer there is a Booster. In addition to that part, it turns out that the Lolita Hammer, besides being able to deal damage to the area with Stun, is able to make Shields in large or small sizes.
Soldier Training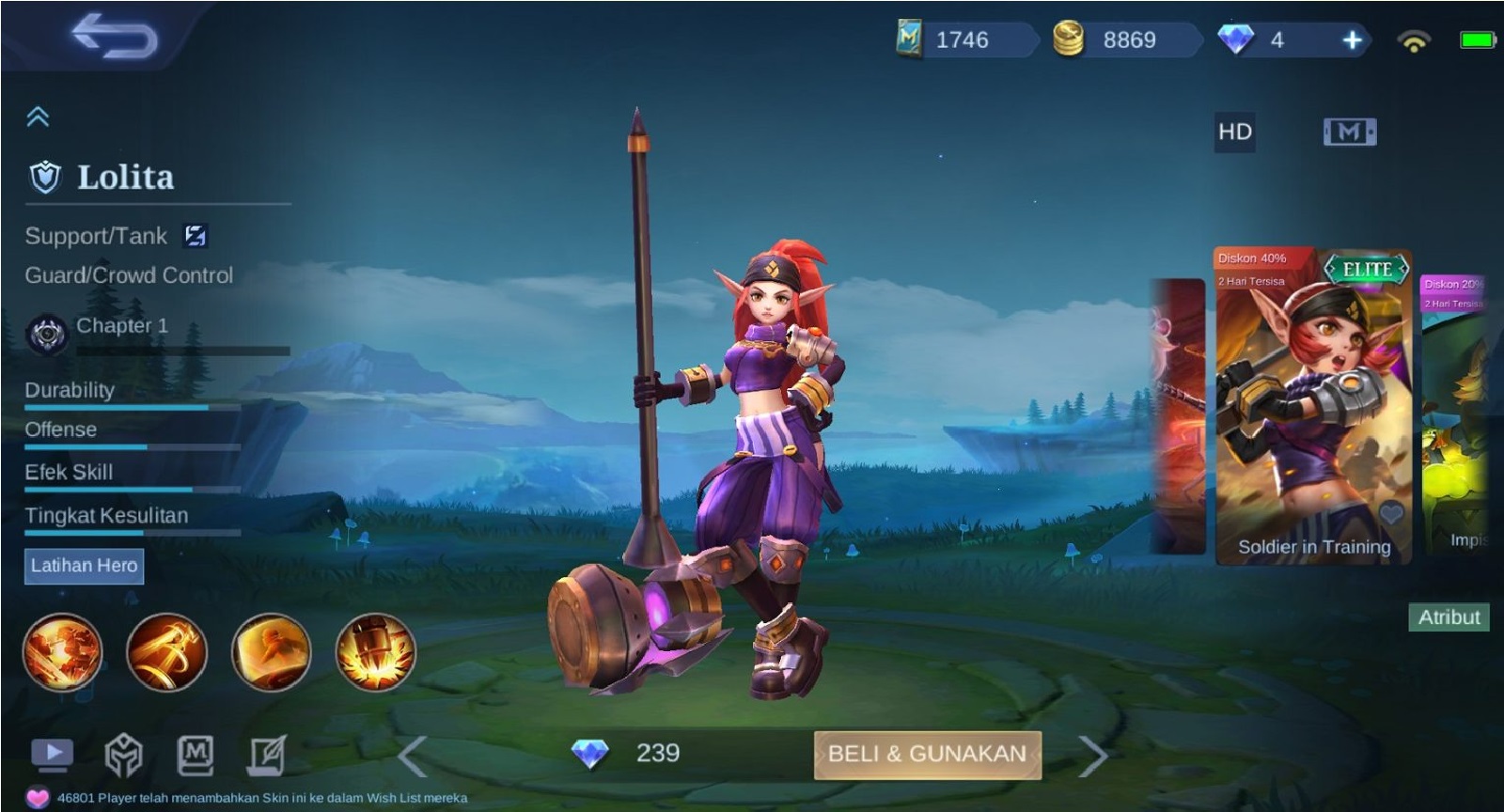 Perhaps too tired to be a Mechanic and hooked up by scrap metal, Lolita finally chooses another Fate to enter as a warrior. For the Weapon Model, there are slight changes that have a little Space, a Purple color and a slightly bigger Booster.
Then the Lolita outfit itself becomes a bit more revealing in some areas, but still this includes training outfits. So if you have entered the correct battle squad, then Lolita's clothes may be more covered and full of armor.
This is an Elite Skin in the Mobile Legends game, so players can get the Skin for 399 Dm. It doesn't have a lot of Effect changes, just a look that is much less different from the initial basic skin.
Impish Trickster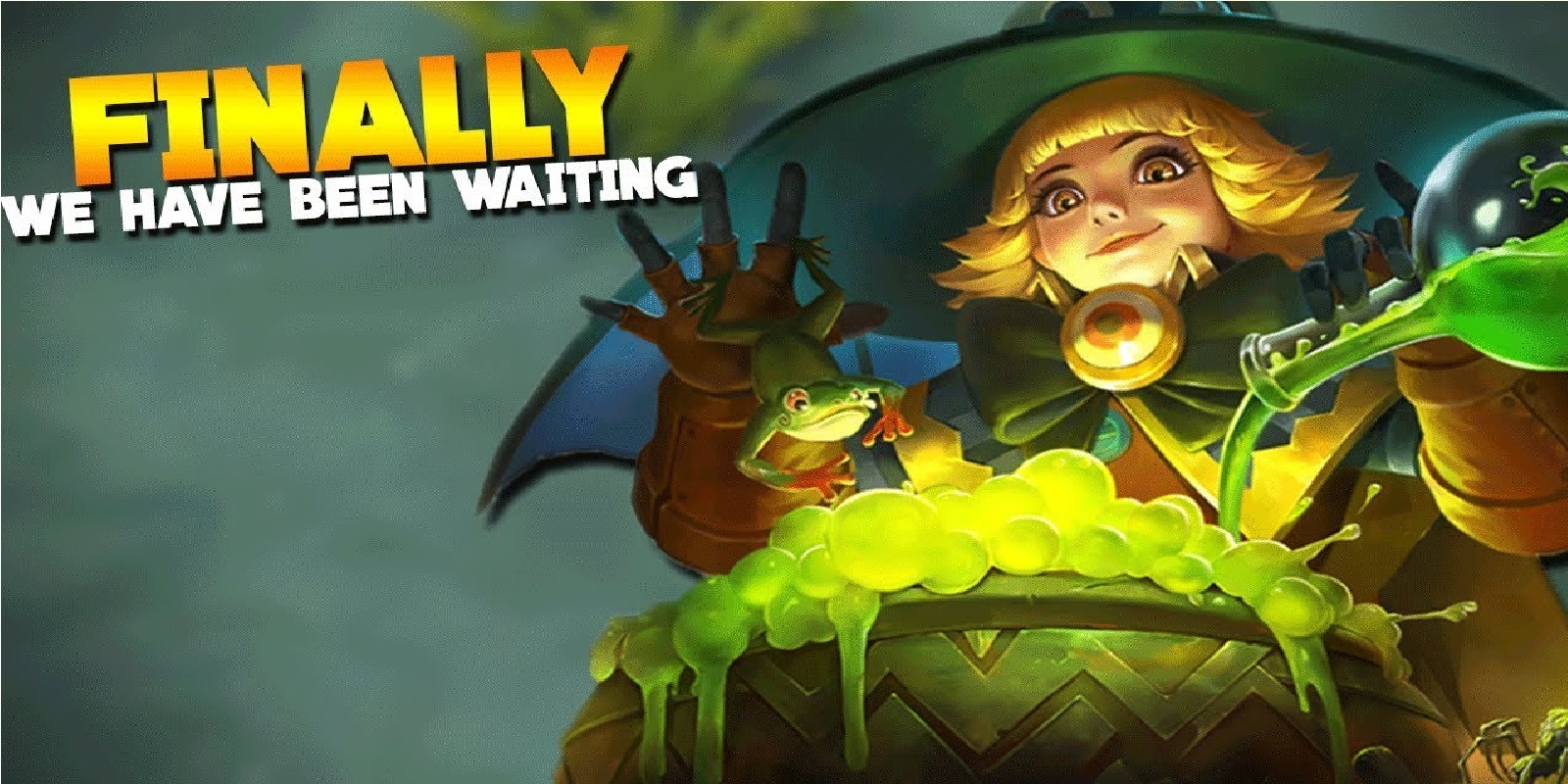 Lolita uses a Skin related to the Halloween Theme in the Mobile Legends game, this skin is a special. With that appearance, Lolita looks more like a Teenager having lots of fun on a terror-filled Halloween night.
Her clothes look quite covered from top to bottom, even for the clothes are a little big and have wings that move. His head uses a cat wizard's hat, then uses a Cat Eared Boots and his giant Pumpkin Hammer.
This skin is included in the Special Type in the Mobile Legends game, of course the price itself is 749 Dm for you to get later. When you use the Skin later, there are several Effects that change when attacking from this hero's Skill as well.
Lion Dance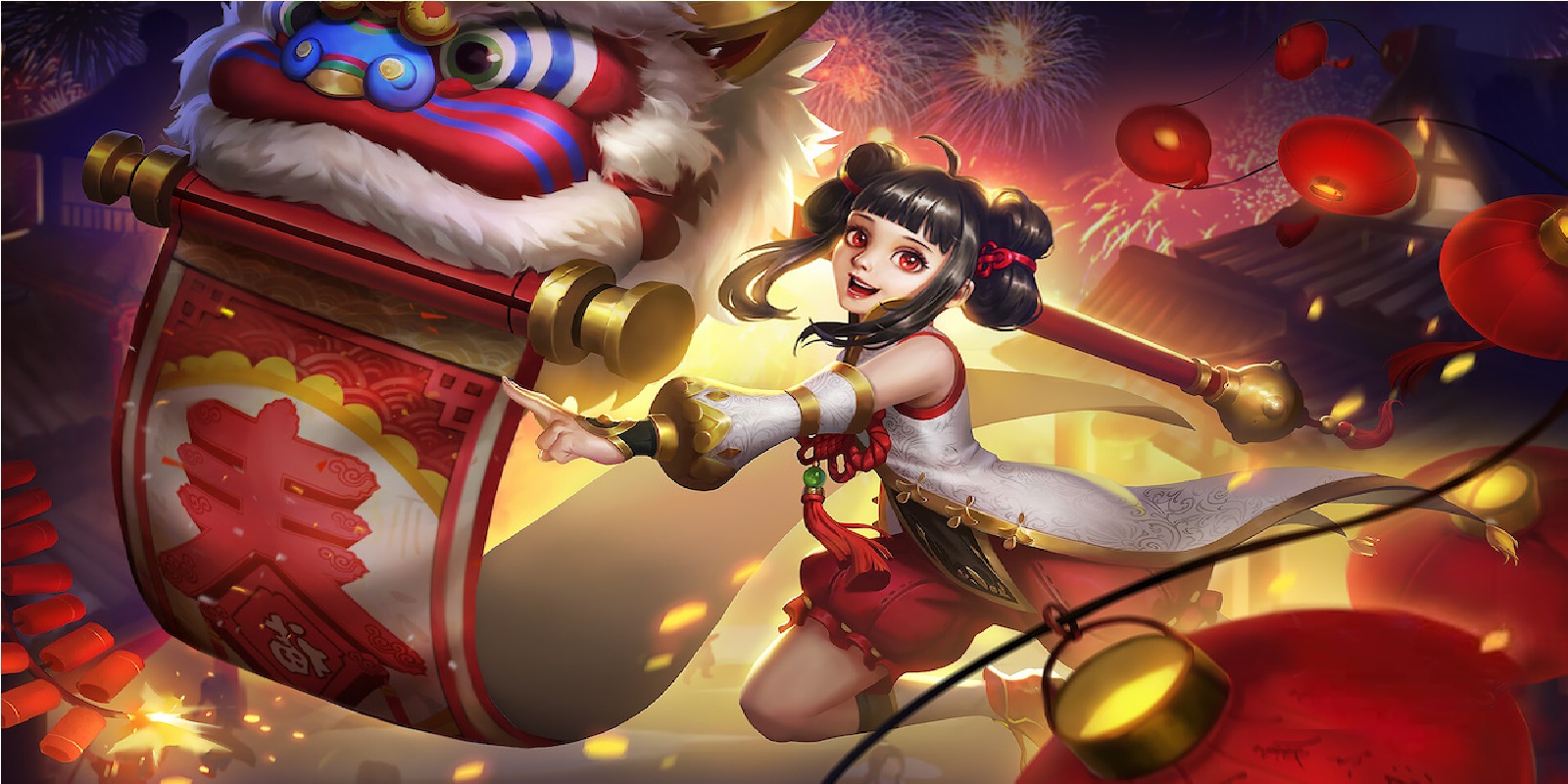 Having a Chinese New Year or Lunar New Year theme, Lolita also makes this atmosphere more festive by playing Lion Dance. Even from her Special Skin, Lolita will give an Attack with the Lion's Head attached to her weapon right now.
Even from the Lion Dance Skin Clothing, it can be seen that Lolita is wearing a unique Chinese traditional dress. Especially with her beautiful face, of course all of this makes the combination of the Lion Dance Skin itself make it even more perfect.
To get this Skin, you have to prepare a total of up to 749 Dm first before buying it later. Has cool Skin Effect changes in matches, even very powerful to protect friends in any difficult match.
Special Op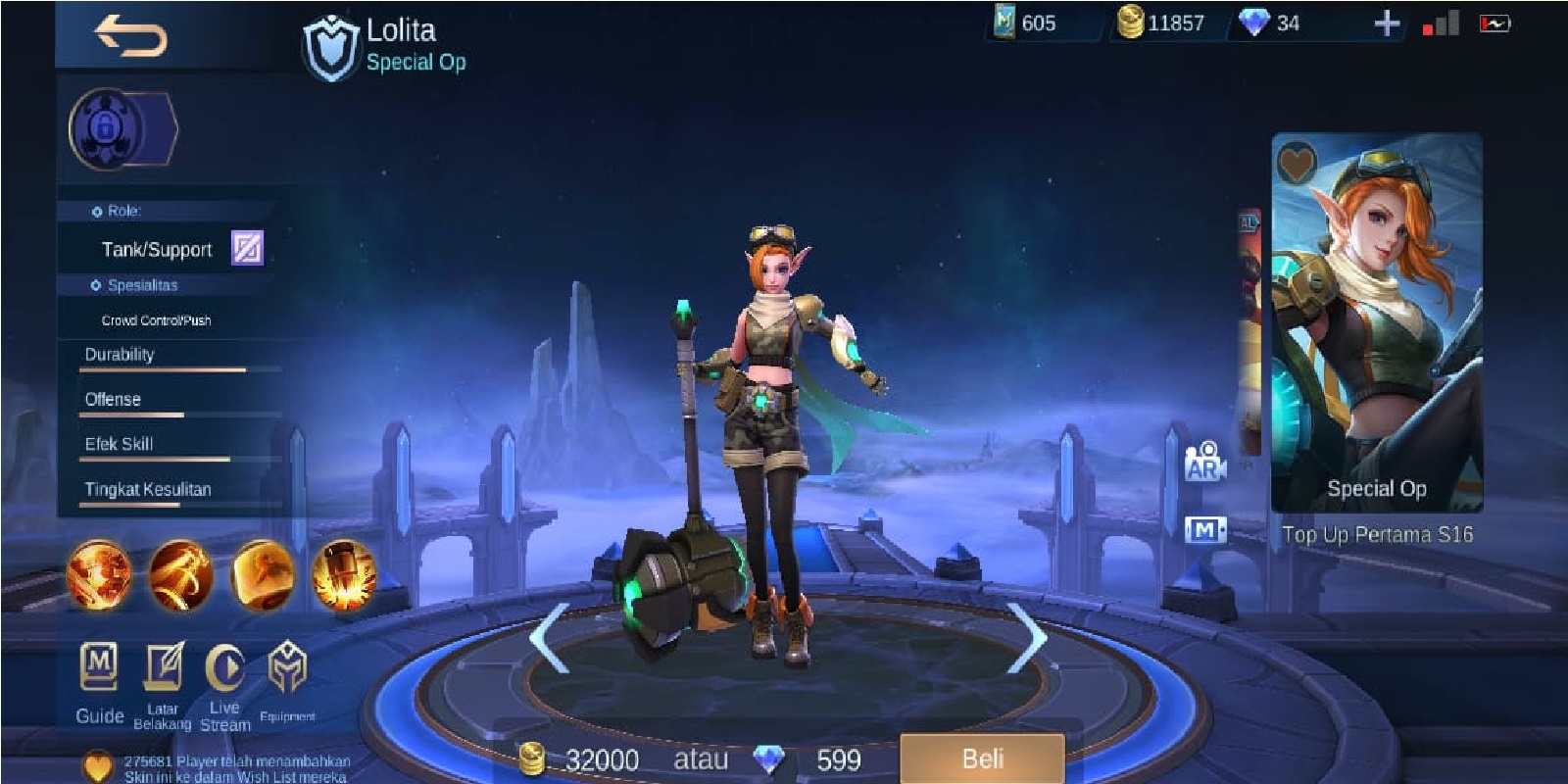 Tired of doing a lot of activities with the previous Skin, Lolita finally turned into a trained Special Op. Remember the initial skin of Soldier Training, maybe this is the result of Lolita who has done a lot of training.
Using a special Armor on the arms and body, has a very strong protective Goggles. Even Lolita will also have a very light Hammer, it is more Black in color and has a blue light effect on each side of the front or back.
This skin only appears in the initial purchase promo for the 16th season of Mobile Legends, including the Normal Skin and of course there is no effect.
Genki Slam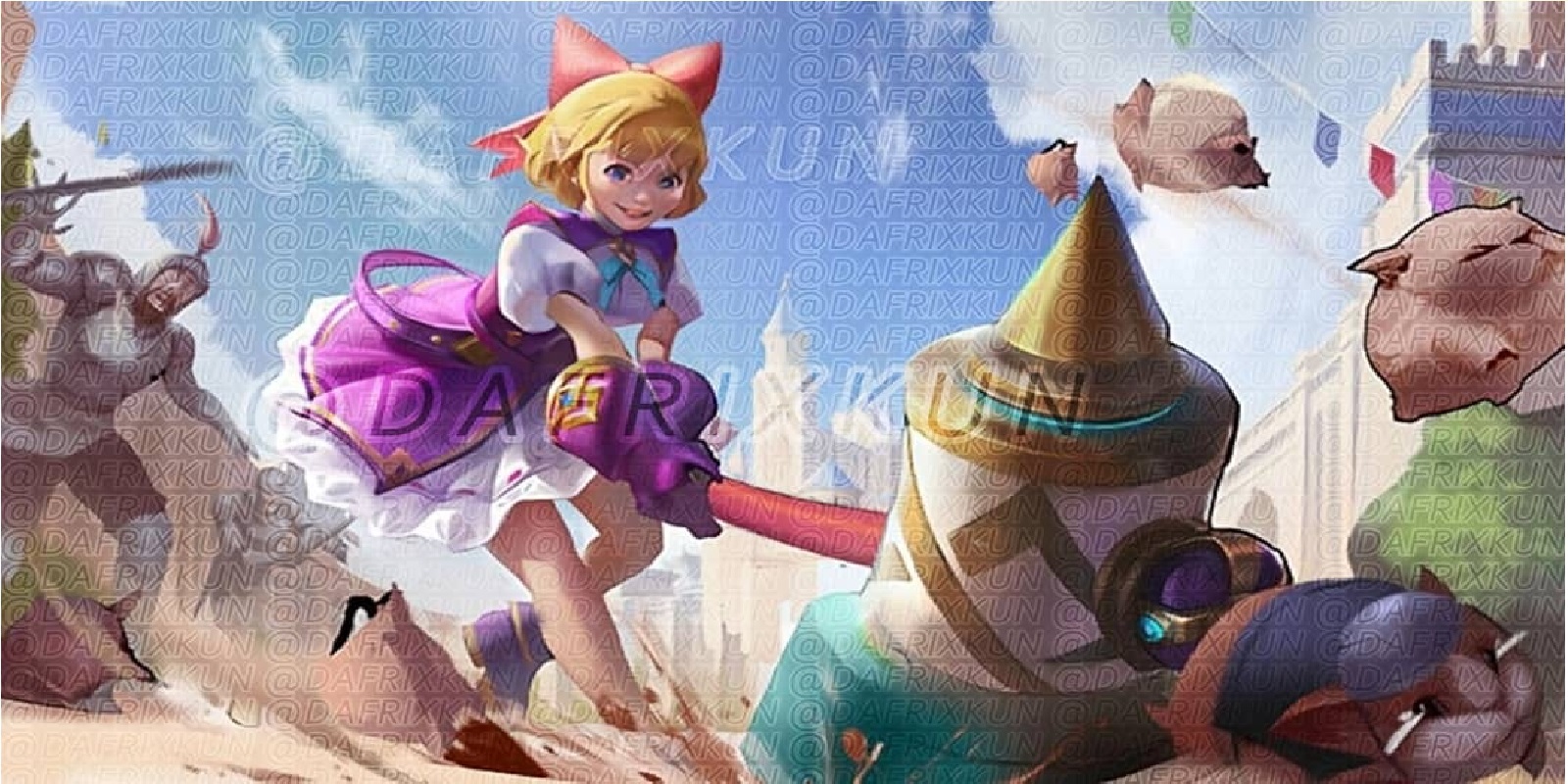 A Skin related to Sweet Candy and Fantasy world, Lolita Genki Slam has a strong power with this Skin. Having the appearance of a young princess in a palace, but because of her strength, Lolita is enough to make trouble too.
But actually if Lolita uses the Genki Slam Skin, it actually looks much cooler than we imagined. If you use this skin later, it will definitely give a pretty good effect and have a very good skin color from the attack.
Even so, this is a special skin from Lolita that is always pending, even the release itself is quite long. That's why Genki Slam, if you already have it, must continue to use it so that it will be cooler and more confident when competing later.
After knowing the 6 Best Lolita Skins in Mobile Legends (ML), you will be even more excited to try them. Because what is present from this Lolita Skin now, it is quite good compared to the others and you will like to wear it even more. Keep practicing, play wisely and don't become a toxic player!
Don't forget to follow our social media on Instagram and also subscribe our youtube channel