Intrigued by the latest gameplay of the Guinevere – Summer Breeze skin in Mobile Legends, this summer special skin comes with a very cool animation effect than the previous skin. This is the reason. For those of you who are curious, here is the latest Guinevere – Summer Breeze skin gameplay in Mobile Legends. Check out the full review below.
Guinevere – Summer Breeze is one of the Summer skins that is present this summer. Waiting for its presence in Mobile Legends, maybe you will be a little curious about the gameplay of this newest skin.
Guinevere being one of the interesting heroes with unique abilities and deadly combos, this one hero is very beautiful and of course one of the strong heroes in Mobile legends.
Gameplay Skin Guinevere – Summer Breeze Mobile Legends
Guinevere – Summer Breeze has very cool gameplay, in the video above we can see the skill effect display of the skin which is cooler than the previous skin.
In his first skill, Guinevere shoots a blue ball that glows like water with an animation effect that is improved and better than the Sakura Wishes skin.
Then for the second skill, Guinevere will jump in the specified direction accompanied by an animation that is blue like water. Then the third is used twice, there's a cool shadow animation behind it.
The last is the ultimate attack which gives a wide effect, if you look at the normal skin, it only looks like an ordinary attack and does not have good animation.
But for this latest skin, it gives a whirlpool like a tornado around it and a ball of water that circles it, creating a very cool effect.
The comparison between the Sakura Wishes skin and the Summer Breeze skin is even better, even though they are both special skins, but you must be obliged to get this latest skin in Mobile Legends.
Price and When to Release?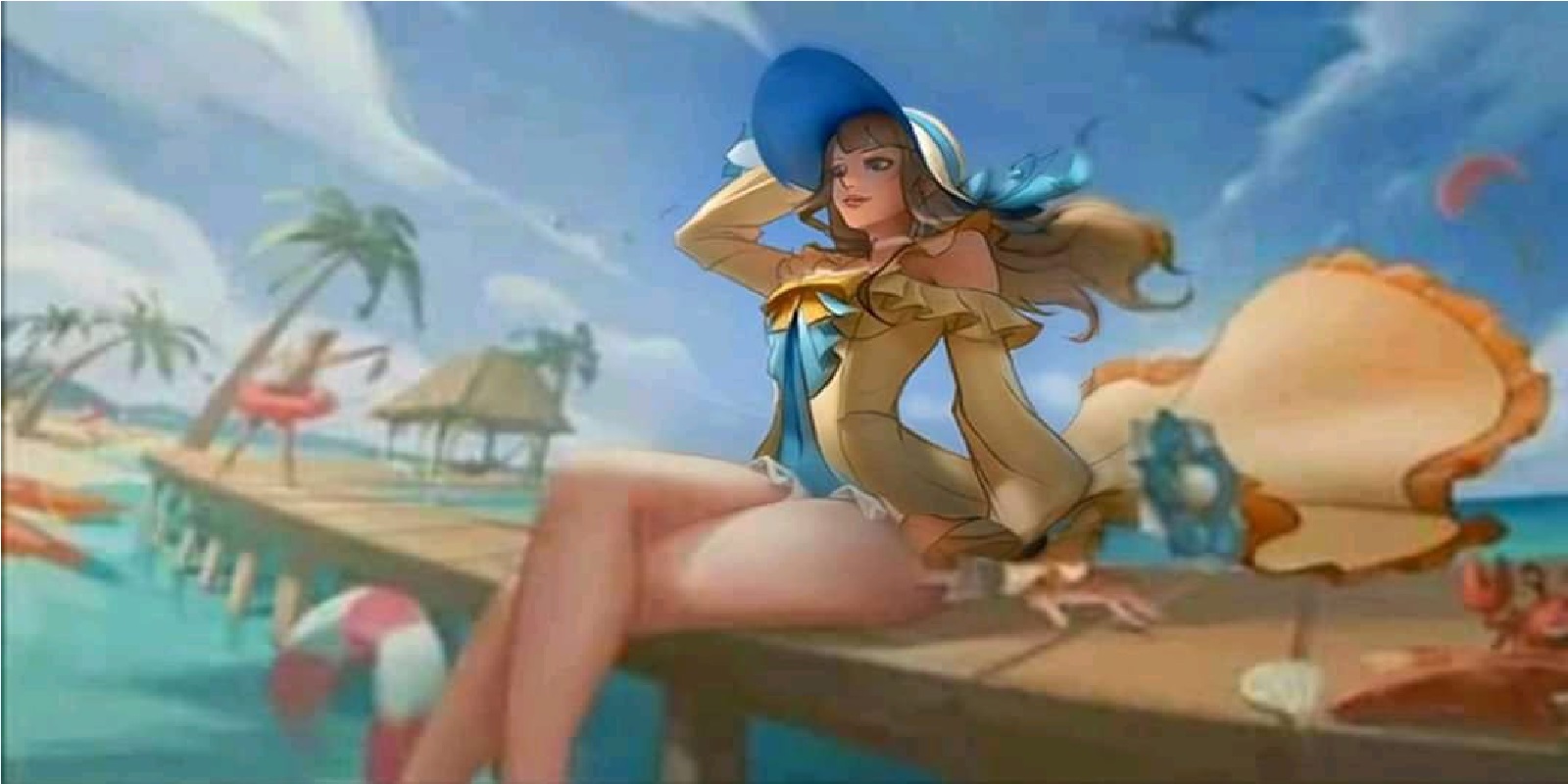 This latest Guinevere skin will be released on July 28, 2021, while for the price, you can take this skin home for around 749 diamonds.
Not only that, at its release you can get an attractive discount of around 30% and of course it will make this skin cheaper to get.
Guinevere itself has quite a lot of Special skins, but from the many skins, this Summer skin is the skin you need to have because it has very cool animations.
Guinevere himself is one of the heroes who is quite meta as an offlaner, so it doesn't hurt for you to have this cool skin to be more enthusiastic when playing.
So that's all for a review of the gameplay skin Guinevere – Summer Breeze which will soon be available in the Mobile Legends game. You must have this one skin specifically for Guinevere users. Hopefully useful and see you soon! Keep practicing, play wisely and don't become a toxic player!
Don't forget to follow our social media on Instagram