This is how to choose the right emblem for heroes in Mobile Legends. The number of heroes might make you a little confused in choosing emblems when playing. In the following, Esportsku will give you how to choose the right emblem for all heroes in Mobile Legends. To get better at it, please refer to the following.
The emblem is one of the most important attributes to increase the power of a hero in Mobile Legends. By using the right emblem, you can get huge damage.
For example, pro players, instead of using diamonds or BP to buy heroes or skins, most of them are generally looking for magic dust to increase emblems.
For ML players, you have at least one max level emblem that can be used by heroes with roles that you like. This becomes very important in getting a win.
How to Choose the Right Emblem for Hero Mobile Legends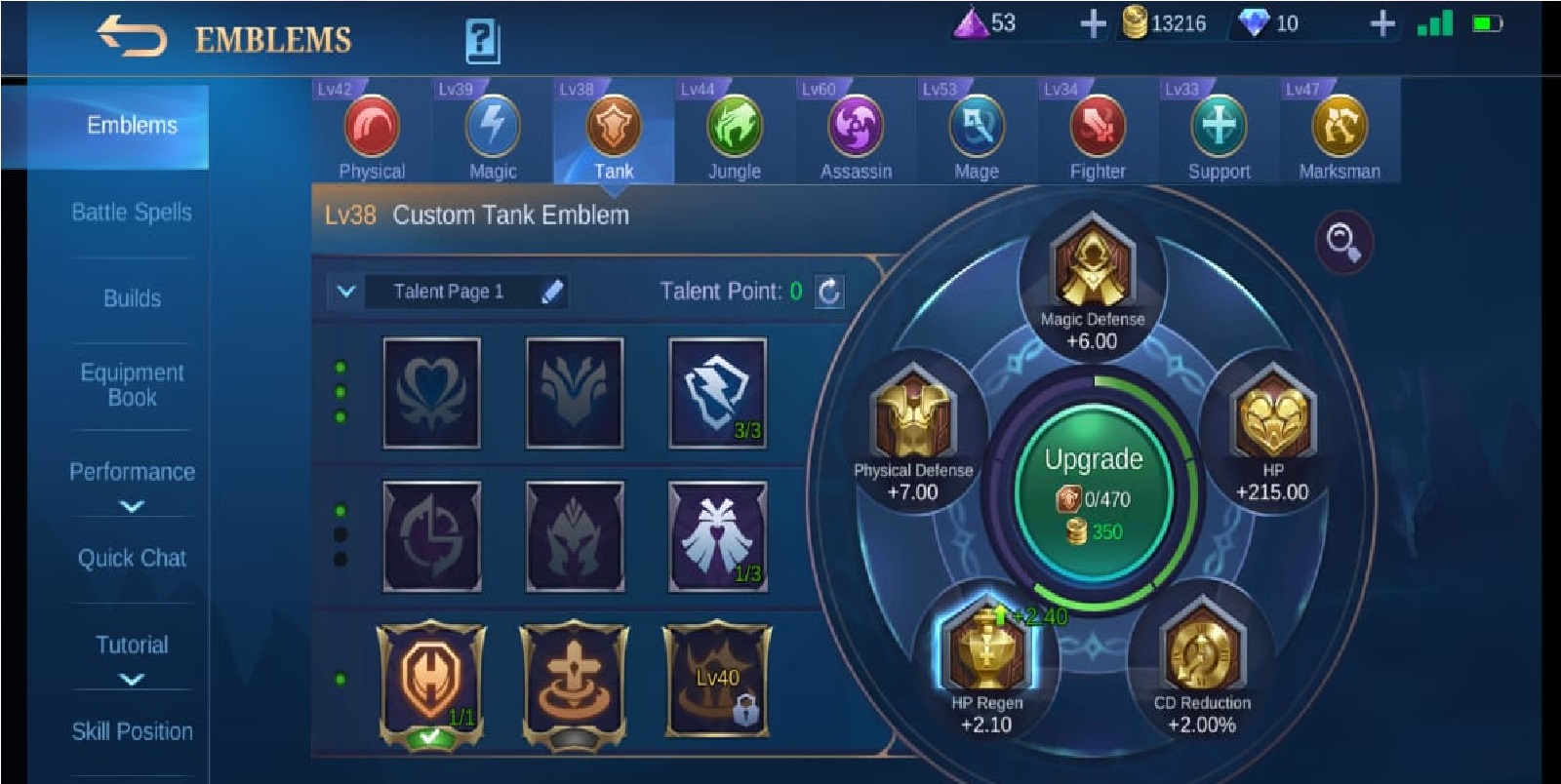 There are a few tips so that you can focus on improving just a few emblems, the goal is that the magic dust you use in choosing emblems will be optimal and not free of charge.
You have to focus on just a few emblems, especially the roles that you like or often play. Overall, according to the author, there are three most mandatory emblems to be upgraded which can include all heroes in Mobiel Legends.
Here are the emblems that must be upgraded first:
Common Tank Emblem

All Hero Tanks
Hero Fighter Semi Tank
Use the Common Tank Emblem for all tank heroes, the goal is for your tank to have a more solid and strong defense.
This emblem can also be used on a fighter hero who wants to be a tank hero. For example Chou, Silvanna, Jawhead and others.
Custom Assassin Emblem

Marksman
Assassin
Fighter
Actually, for a fighter hero, you can enter the Custom Fighter Emblem or Custom Marksman Emblem for marksman.
However, there is still one goal, namely to increase some of the max level emblems first. We recommend leveling up the Custom Assassin Emblem first.
This emblem is worth it for many heroes, such as marksman, assassin, and hero fighter.
Custom Mage Emblem

Mage Assassin
Mage Fighter
All Hero Mages
Hero Support
Several Hero Tanks
Custom Mage Emblems are the most favorite emblems that can include heroes. For example, Mage Assassin heroes like Gusion, Harley and Kadita.
Besides that, Mage Fighter like Esmeralda, Silvanna, and Guinevere. As well as all mage and support heroes.
Some tank heroes are also very effective at using mage emblems, for example the heroes Gatotkaca to Johnson.
With the review above, you already understand how to choose the right emblem for the hero in Mobile Legends. All heroes in the Land of Dawn can use the three emblems above as the main emblem that you focus on. May be useful. Keep practicing, play wisely and don't become a toxic player!
Don't forget to follow our social media on Instagram