Mobile Legends presents a lot of very interesting hero skins. Especially for How to Get Benedetta Moonblade's Mobile Legends (ML) Skin, one of the newest ones has appeared. You will definitely be interested in having this skin, including the users who often use the hero. Then now there's a way to get Benedetta Moonblade's Mobile Legends (ML) skin, of course it won't disappoint. Because the appearance of this skin, too, is quite good and very satisfying.
We know that there are many updates that are present in the Mobile Legends game, make sure not to miss any missions and prizes. Because the gifts you get, will give a rapid change in the account. Because this will provide interesting things, for you to do later.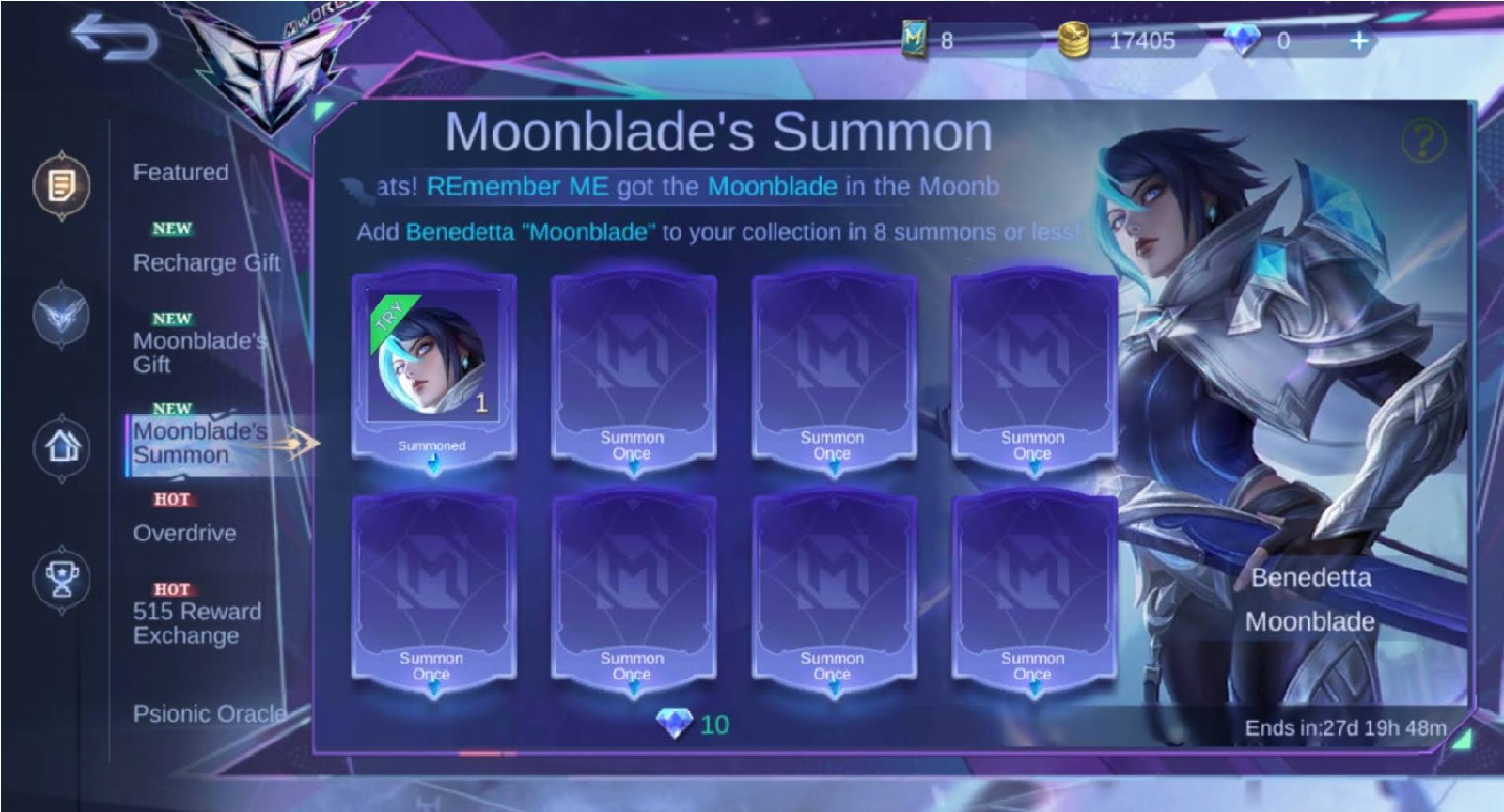 Enter the Mobile Legends Game
You must first login to the Mobile Legends game now, so you can start getting the main prize. Because this Event will take place from May 4 – June 3, 2022, so try to finish it before it's all over.
Select Event
If you look for the section that describes the Events in the Mobile Legends game now, to be precise, we can find this on the left side of the Menu screen and go directly to the Event. From here you are at the top, then look at the Event category and if you find Moonblade's Summon writing, just press it.
Play at Benedetta Moonblade's Skin Event
Then players can start entering this event and get 1 free chance to open the card. It's free, it will only go directly to the Trial Skin Benedetta Moonblade's Doll. But if you want to continue, of course you have to be prepared to spend money.
Start Getting Benedetta Moonblade's Skin
Then next we can start to enter this Event section, start opening each card using Diamond. The start is free, the second is 10 Dm and the more that are open, the more expensive it will be to make 1 card that will open later.
If you have done something like this, then the main prize from Moonblade's will be included in the Skin List of your Mobile Legends account. Then you can use this Skin on Benedetta, change colors and models on Benedetta.
Now to get Benedetta Moonblade's Skin, it's really cool, it means you have to know how to get it now. It will definitely feel better, even you yourself will have a much cooler appearance.
For those of you who are players of Hero Benedetta, let's hurry up and have this Skin and use it when competing later. Because it is a special skin and has its own type that you must see clearly. Keep practicing, play wisely and don't become a toxic player!
Don't forget to follow our social media on Instagram and also subscribe our youtube channel