Mobile Legends if it's an Event problem, there will be many new releases and of course it's great. Of course, with How to Get Free Skins at the Free Lucky Draw Mobile Legends (ML) Event, you can also feel the same way. If anyone thinks this is a fake event, of course it's wrong because it did appear in the Mobile Legends game. Especially for How to Get Free Skins at the Free Lucky Draw Mobile Legends (ML) event, maybe you will like one of them. With events like this, the chance to get Skin prizes has a bigger chance later.
There are lots of new things in the Mobile Legends game now, to be able to get these prizes, yes. Make sure you all have a good chance, you can start getting gifts like this too. There are lots of good events that you can play, if you follow some of the latest events from this game now, yes.
How to Get Free Skins at the Free Lucky Draw Event Mobile Legends
Enter the Mobile Legends Game
The first thing you can do is to log into the Mobile Legends game first, so that later you can start getting this Skin to be even better. You will start to get some prizes that we can get, if you follow all the Events and even Free Lucky Draw later.
Choose Event And Free Lucky Draw
You choose immediately the right event on the left, now if you're looking for an Event category called Free Lucky Draw or Free Draw for Indonesian. After doing that, players will see a Spin that we can do to get a free Skin.
Watch Ads To Get Free Skins
Then from here we will get an opportunity to do Spin 10 times a day, that's if the total is free but if you want to use Diamond you can only need 6 pieces. The opportunity for Free Spins is only through an advertisement, so if you want to spin 1 time, you have to see the ad 10 times and that's a maximum total of 1 day. If for the next day, you can do Spin as much as the maximum number of 10 times.
Chance to Get Up to 50 Spins
Of course you will get a chance to get a free skin from this event if you have done up to 50 spins. That way you have to do this event for 5 days, you have to be diligent in watching this ad so you can continue to get a permanent skin between Pharsa Normal or Hanabi Special later.
Skin Can Enter Hero Directly
For the prizes that we get in this event now, will start getting the prizes directly into the Hero. Take it easy, this is an event that is present in the game, but it's just that it's hard to exist and sometimes only a few accounts appear.
For this event, it's pretty good, but unfortunately Esports I recommend not to use it in order to get Hanabi's Special Skin. Because after doing those 50 Spins, we will get a large Pharsa Skin prize from the Event.
How to Get Free Skins at the Free Lucky Draw Event Mobile Legends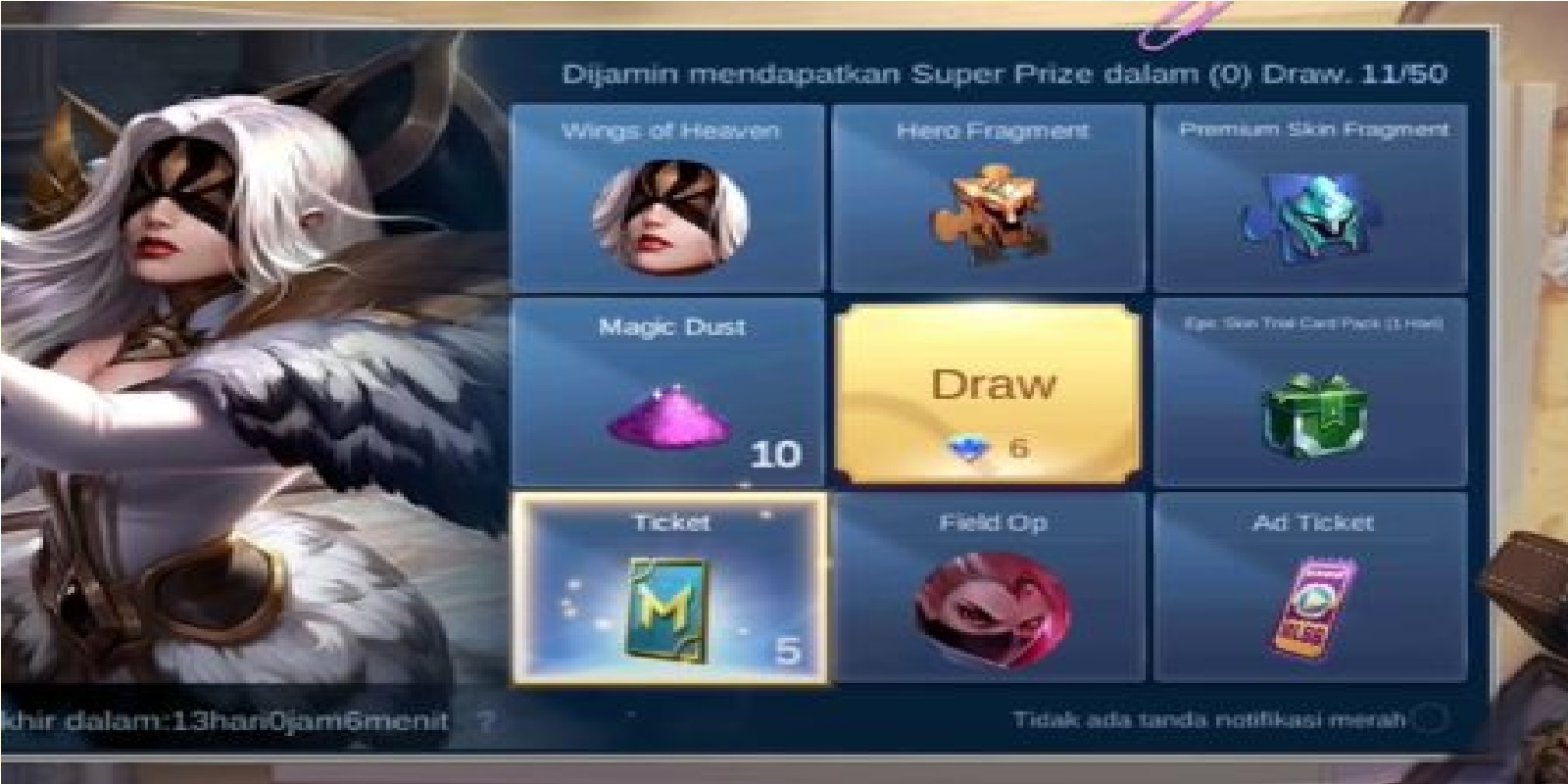 But if for later, this spin will not be reset and it will continue. So, how is it? Are you interested in getting this gift now? but it's better to buy it directly in the Hanabi Skin Shop.
After knowing how to get free skins at the Free Lucky Draw Mobile Legends (ML) event, it means that it depends on you whether you want it or not. So make sure before doing the Spin from this Event, make sure you are mature in order to get the prize.
Make sure immediately How to Use Hero Hanabi in Mobile Legends, so that it will be cooler and will make you more enthusiastic to do it too. Imagine having a Hero whose skin is good, but the game is bad, so you have to learn better. Keep practicing, play wisely and don't become a toxic player!
Don't forget to follow our social media on Instagram and also subscribe our youtube channel