Mobile Legends has released a lot of good updates that you can really see. There's even a way to get Guinevere Mobile Legends (ML) Action Emote, which is really cool and stylish. Of course, if you use an Action Emote like this, it will make Guinevere look good later. Indeed all this will look very interesting. So make sure you don't miss this opportunity, so that later you can have a funny style when using the Guinevere Hero.
Especially for some good events that you really can't miss, because all of these will continue to get something interesting. Especially with the events that already exist now, surely you will have a good opportunity for us to try it right now.
How to Get Guinevere Action Emote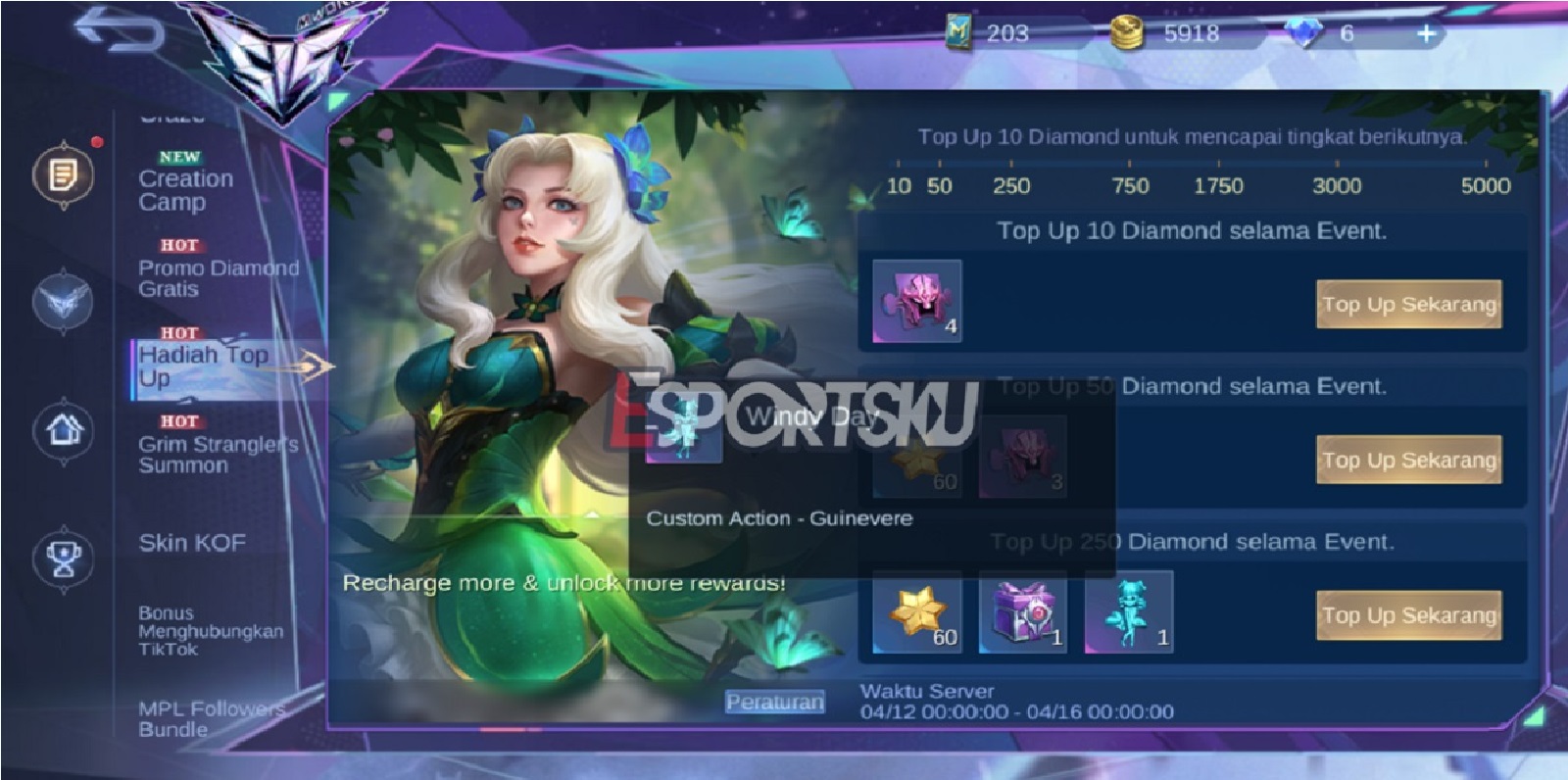 Login Mobile Legends Game First
You must first login to the Mobile Legends game now, so you can start getting the main prize. Because this Event will take place from April 12-16, 2022, so try to finish it before it's over.
Select Event and Look for Top Up Prizes
Next we have to choose the name of the event and look for the top up gift right now, so that later you can get the Action Emote. There will be some conditions and missions first, so you can have a cool Action Emote like this.
Top Up 250 Diamonds to Get Guinevere Mobile Legends Action Emote
Then next we have to do a Top Up of 250 Diamonds, so you can have the Guinevere Action Emote. It's cheap and you can immediately have it, there is even a Crystal of Aurora gift that you will get from here.
Top Up in a Safe Way
Don't let you top up in an illegal way, Esports I suggest doing a top up from within a trusted game or service. But usually from the Online Shop you can too, as long as you are ready with all that.
Action Emote Guinevere Enter Prep Features
Then we will get this Guinevere Action into the Prep Feature. Of course it will be a very cool Skin, it can even make you stronger and cooler when competing. Of course we can immediately use the Emote on this Hero now.
Events that give prizes like this, let's have them right away and use them to compete later. Surely the Emote will fit the Action Emote Vale Mobile Legends, because it has a movement like being hit by the wind which lifts Guinevere's clothes a little. Keep practicing, play wisely and don't become a toxic player!
Don't forget to follow our social media on Instagram and also subscribe our youtube channel