Mobile Legends has released many cool heroes and interesting skins for them to use when competing later. Especially with How to Get Skin Yve Ruin Protectress Mobile Legends (ML), you won't be confused by things like that. Because having this latest skin is also very profitable, a cool shape than before. You can try it right away and you will receive all of it. Even for the appearance of this new Skin, it will make Yve later become cooler and stronger than before.
It turns out that there are many good things that you can find now, you must be interested in being able to get a gift like that. Even with several mission events that have appeared now, they are quite good and you can have if you have seen the mission now.
Moreover, yesterday you must have known how to vote for the new M4 Mobile Legends Hero Skin, to get a new skin from the upcoming M4. Surely every player has their own choice, if you like it you are interested in trying it directly.
How to Get Yve Ruin Protectress Skin Mobile Legends
Enter Mobile Legends Game
For the first time, you must first enter the Mobile Legends game, so that later you can continue to get this new Skin. The power that appears in Yve Ruin Protectress is indeed strong, the newest skin will appear on January 11, 2022.
Choose Shop and Skin Features
Then you can also directly select the Shop Features on the left, then start using the available Skin Categories later. Of course, a new Skin update that appears this time, will be present and will appear at the very top after that.
Buy Skin Yve Ruin Protectress Mobile Legends
Then next of you who have found the Yve Ruin Protectress Skin, then hurry up to be able to buy the Elite Skin. The price is at most only 599 Diamonds, but at the beginning of the release, you will immediately get a 30% discount for 1 week.
Yve skin is ready for you to use
When you have bought the new Skin from Yve, then you can immediately use it now. By having cool effects even though Elite Skins, it will definitely make the enemy won't dare to fight you. Let's just wait for this new skin, if you want to have it now.
Through New Events
But usually if this Yve Ruin Protectress Elite Skin will be coming soon at a new event too, you just have to finish the mission first. After the mission has been completed, then you can get the prize and maybe the prize is Yve's new Skin.
How to Get Yve Ruin Protectress Skin Mobile Legends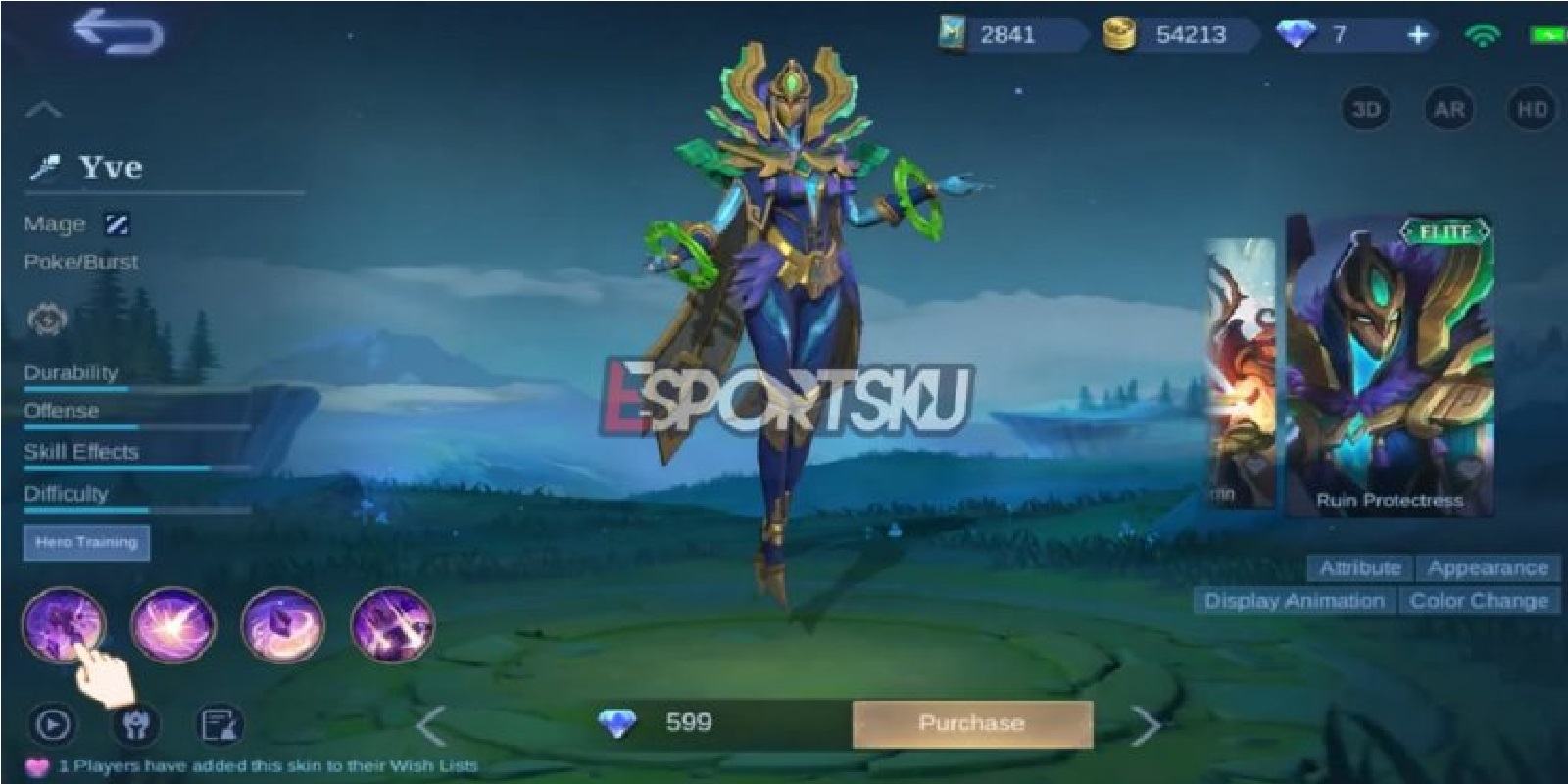 With the release of a skin like this, you might be interested in having the one right now. Maybe with Skins or Events that will come soon, maybe you will try it yourself when playing later.
How to Get Skin Yve Ruin Protectress Mobile Legends (ML)
Especially with several Skins that have appeared now, make a choice before you want to get one from here. Who knows, cool skins with interesting effects, can make your heroes stronger later.
After knowing How to Get Skin Yve Ruin Protectress Mobile Legends (ML), you don't need to be confused anymore with this. Just follow the method that Esportsku provides, so you don't miss this new Skin which will get a huge discount. Keep practicing, play wisely and don't become a toxic player!
Don't forget to follow our social media on Instagram and also subscribe our youtube channel