Mobile Legends always presents lots of cool prizes for players to get now. You should also check out the Mobile Legends (ML) Mega Sale Event Calendar, so you won't miss the latest prizes later. Because all of these events have a date too. Instead of that, we better know the Mobile Legends (ML) Mega Sale Event Calendar first, because this is a very interesting event. You will definitely know more about what is present in this game for now.
There are many new events from the Mobile Legends game that you have to complete, so that you can have the prizes later. Moreover, there are many freebies that we can all get, when participating in this event by completing all the missions well.
Then for the presence of the Fate Denier Mobile Legends Event Calendar, of course it looks like you will get lots of prizes. But it looks like this is a little different, because the events that are present in a game must have their own time.
Mobile Legends Mega Sale Event Calendar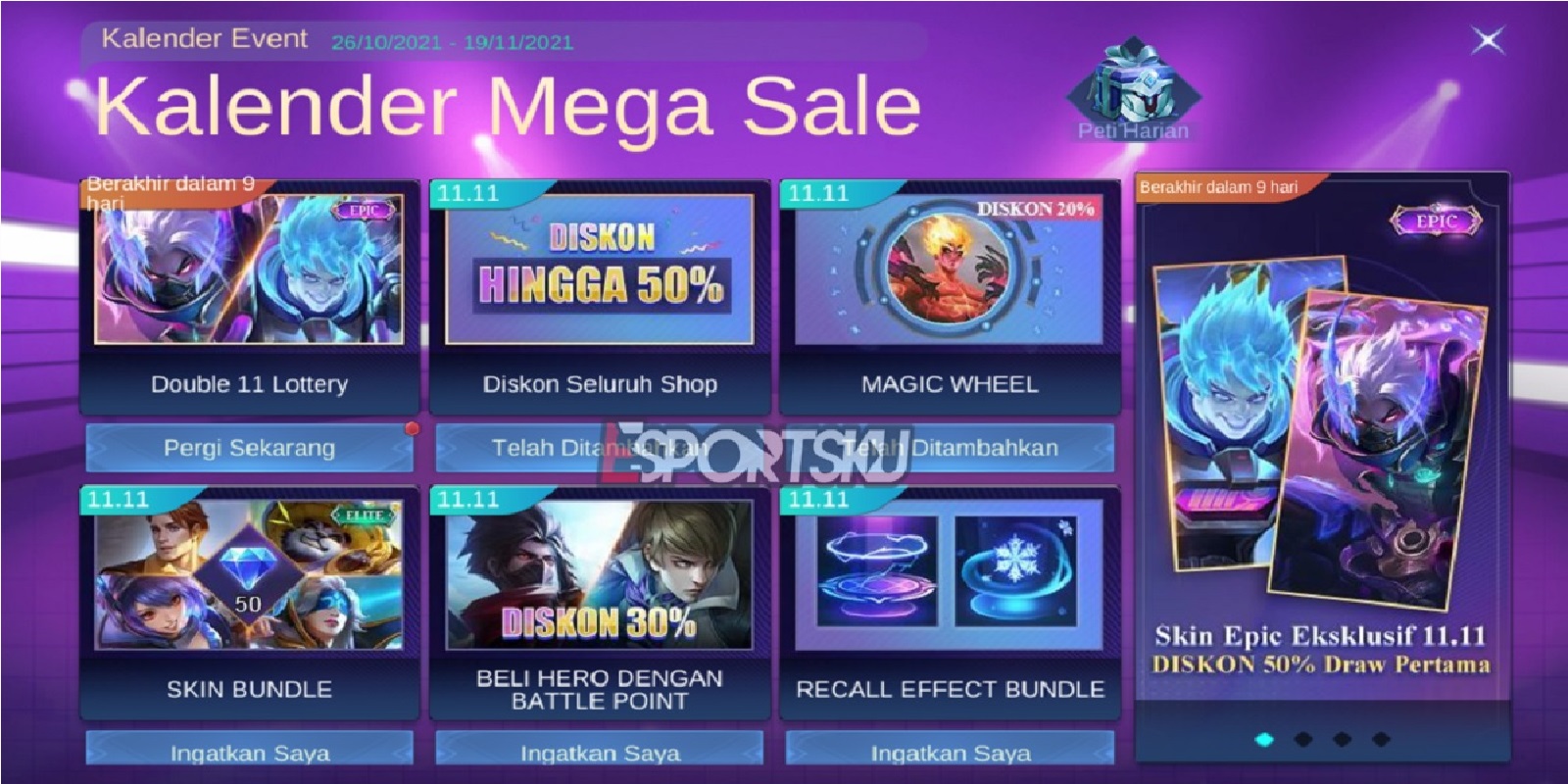 Diamond Mobile Legends Promo Up to 11 Billion (26 October – 15 November 2021)
At the start of this event, it had been going on from October 26, everything was open from this many DM promo. All players must be able to compete to get the Popular Number 1 level, so that later they can get this Dm Promo prize too.
His presence will definitely help players so they can collect a lot of promos, so that later they can include big discounts. This will be the best choice for the players, so they don't miss the Skin at a low price in the game.
So if you have collected in large quantities, it means that purchasing Skin only needs to spend 1 Dm because of this promo later.
Mobile Legends Mega Sale Event Calendar is Double 11 Lottery (8 – 18 November 2021)
Then you will also find Double 11 Lotterly in the Shop, so you can Spin to get the prize. The skin present at this event is indeed new, namely Hayabusa Shura, a cool skin which of course is included in the Epic Standard.
This also includes the Mega Sale Calendar section of Mobile Legends, you can get good Skin prizes. You can even receive a permanent Skin Collector from the Spin Double 11 Lottery.
You will have lots of prizes that are quite interesting when you spin, but make sure that you are also after the first prize.
Mega Draw 50 Thousand Diamonds (8 – 12 November 2021)
In this section, we will be able to buy the Double 11 Lottery Token Ticket first, so that later you can spin in the event. So if you buy something from here, you will get a Lucky Draw Ticket to win 50 thousand free Diamonds.
But remember that this is a Sweepstakes and there are a lot of people who can take part in such an event. In fact, there are only 3 winners who will succeed in getting it, it depends on you yourself whether you want to join or not.
If you want to join in, just buy something from here and you will definitely get it right away without you having to confuse it again later.
Daily Top Up Rebate (8 – 15 November 2021) is the Mobile Legends Mega Sale Event Calendar
Next you will receive an Event Category that is Top Up, its name is Daily Top Up Rebate. This means that conditions like this will make players have to top up first, then they can get the prize and do it for 1 week.
During the event, players must top up 100 Dm every day. The prizes here are Double 11 Lottery Tokens for Spin, Magic Potions and a Zhask Exclusive Battle Emote.
All the prizes that appear in this Event section are quite satisfying, but you also have to be able to do better. So that later nothing will go wrong, so that it can more smoothly follow this event.
Discount All Item Shop 50% (11 – 15 November 2021)
On the occasion of entering the peak event, of course we will see that later there will be a Discount Event for the entire Item shop. Even this coincides with the date when you can use the DM Promo, of course you will buy skins much easier.
It means that later you will use the DM Promo much more efficiently, because there is a possibility that you can buy 2 Skins from here. Get a discount on all items from this shop by 50% immediately, buy according to your needs which we really want to have right away.
Make sure that from November 11-15, you continue to take part in the ongoing event so that the Dm Promo prize will be available again.
Skin Bundle 50 Diamond ( 11 November 2021 )
This can be quite different from the Discount for all Shop items, because it has its own price for several Skin Bundles. Prices that reach up to 50 Dm only, maybe you will feel more excited because of the presence of things like this.
Reportedly this will present some Normal Skins or rare ones like Layla's, in the event so that we can have them again. Just wait for his presence on November 11, so you can know what appears and releases in this Skin Bundle.
Mobile Legends Mega Sale Event Calendar is the Latest Recall Securities Sales (11 November 2021)
On November 11, 2021, we will get a new Recall Effect that has an Epic level in the game. Of course, the effect is quite good and looks colorful, because the effect you will get yourself will be better too.
We can even get this Recall Securities Sales from inside the Box, meaning you have to do Gacha if you want to get it. Then make sure you don't miss this, because the Recall Effect reportedly has a new level too.
From here, players can also use the Dm Promo that has been collected, just choose whether you want to recall or permanent skin.
Magic Wheel Getting Cheaper ( November 11, 2021 )
Next you will get a discount from the Magic Wheel which is getting cheaper, of course this will be an option. For those of you who want to get a cheaper Legend Skin, of course the Spin opportunity is on November 11, 2021 right now.
But there is one important thing that you must remember, you can't use this together with the Dm Promo later. So you have to use the original Blue DM, if you want to spin the Magic Wheel during the event in this game now.
The period of this event will last until November 15, 2021, it is said that it will be a little longer. The opportunity to be able to get prizes from here is even greater.
Mobile Legends Mega Sale Event Calendar is Battlepoint Discount Buying Hero 30% (11 – 15 November 2021)
The price of each Hero present in this Mobile Legends game will be reduced by 30% due to the Mega Sale Event now. Make sure you take one of the cool or coveted Heroes from the past, so you can get it and use it when you compete later.
Of course, from the cheaper price, it will make some new players not too confused to spend a lot of BP. Later, choose one of the heroes that we really want to have, make sure to study the hero for you to use in the game.
After knowing the Mobile Legends (ML) Mega Sale Event Calendar, make sure not to miss this event. There are lots of cheap and exciting promos from this Mega Sale right now, so make sure not to miss anything from the presence of all these things.
Moreover, we can also know how to become Rank 1 in Mobile Legends Yellow Diamond Promo, so that you have better preparation. Moreover, there are still several other events, so you can have every new prize that appears in the Mobile Legends Event. Keep practicing, play wisely and don't become a toxic player!
Don't forget to follow our social media on Instagram and also subscribe our youtube channel