Finally Moonto has decided on the final name or the last name for the 107th new hero in Mobile Legends. Previously had two names namely Zandrinn, then Newt and for the last name was Nathan. After previously Moonton presented various fighter heroes, this time they finally decided to bring another marksman hero after Beatrix, this is how the hero looks.
Actually, previously we discussed about this marmskan hero. Has a very different appearance from other marksman, Nathan looks like a genius scientist who is able to have the ability of space and time.
The 107th Hero in Mobile Legends Named Natan – Spacetime Walker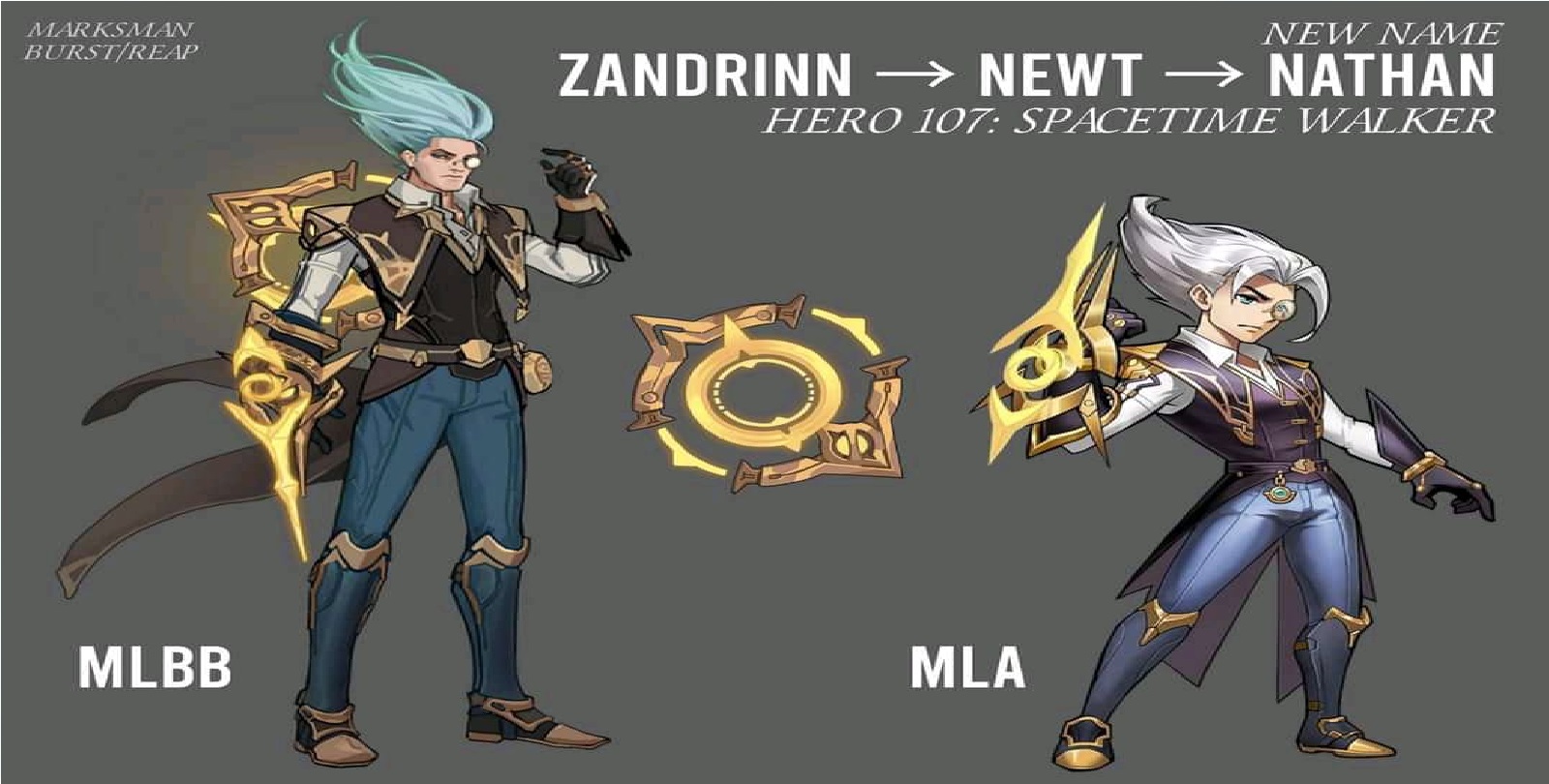 As usual, each hero will always have various names. For example for the previous name, Nathan had the name Zandrinn, then became Newt and the latest was Natlan.
Natlan's name will be presented to the heroes on the Advanced Server and then on the Original Server.
Unfortunately, for skill and other information it has not been revealed. Natlan himself is likely to be present in the next few months or the next month.
Natlan himself is the 107th hero, while the 106th hero is Phoveus hero and the hero is already present on the original Server.
Nathan's Skill Prediction
Natan has the title Spacetime Walker, which means space-time traveler. According to the author, Natan's skill ability will have the ability of space-time itself.
For example, Natan has a blink ability that is very good from some of the heroes currently available, or maybe it will be the same as Luo Yi who is able to teleport.
Then to attack it looks like Natan will use a basic attack that will come out of the weapon in his right hand. This will have a resemblance to Wanwan.
Then as a marksman, Natan has a role, namely Burst or Reap, which this role has similarities to Moskov's hero.
Brust allows Natan to have ultimate which is his main attack, while reap, which has the ability to unite his opponents.
This ability is owned by several heroes such as Claude, Layla and others which may be able to provide attacks due to decreasing an opponent's effect or giving slow and other CC.
Natlan Will Release Natlan June Or July 2021
As you know, currently the last hero is Phoveus, this hero is the 106th hero, while for Natlan himself there is no gameplay to handle this hero on the Advanced Server.
So according to the author, Moonton will be absent from releasing heroes in June, and Natlan's hero will be released a month later. But what is certain is that this hero will most likely be released in June or July 2021.
Indeed Moonton himself tends to not always release heroes every month, last year alone, Moonton only released about 11 heroes in Mobile Legends.
So, that's all a review of the new marksman hero named Natlan who will be the last name that will be present in Mobile Legends. What do you think about this hero? Interesting waiting. Keep practicing, play wisely and don't become a toxic player!
Don't forget to follow our social media on Instagram