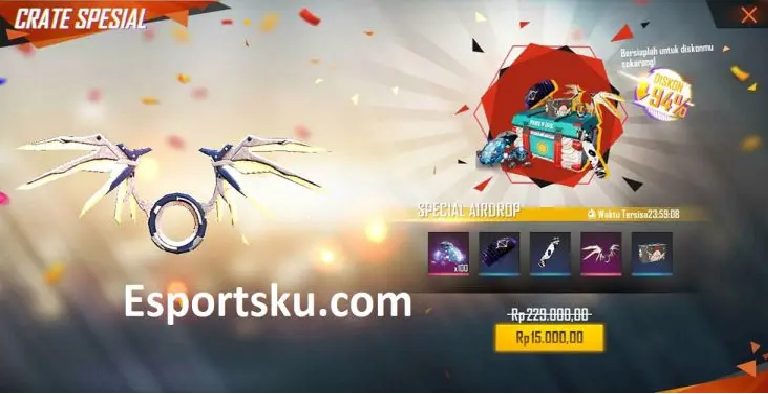 Up to this moment, there are humongous amount of games available in android, and it gives us plenty of option on what to play in android. New updates in those games will surely increases the popularity of those games. If you want to play one of those awesome games, you can try downloading Free Fire. These are the tips to obtain a Special Free Fire that you can get in order to obtain this air drop.
There are plenty of interesting stuff in the game, and for those who play Free Fire recently, there's a new update on June that players can enjoy in the game. Free Fire will always get better as time goes by, in order to gain more users every time. As of yesterday, there are more than 80 million players login in one single day.
If you're a player, you must be familiar with the Special Air Drop. It's an air drop that gives you special discount, and there are some ways to obtain and use one. For some players that were not yet familiar regarding how to obtain and use one, here's the right article for you.
How to Obtain and Use Special Air Drop Free Fire
In order to use the Special Air Drop, you have to obtain it first, obviously. There are plenty of items available to obtain in the air drop. The items contained in the air drop differs every time. Each items have different values, even up to 1 million rupiah with the discount already in place. This air drop will appear only in certain times, so make sure you get one once it appears. If you want to check or use the Special Air Drop, follow the steps below!
Check the Loot Box With the Time Indicator on it
When you play and there's a green loot box logo appears, it means you have obtained a Special Air Drop after a match. However, there will be time indicator that indicate the time remaining to obtain the box, so the appearance will not be permanent, and it's usually appear for only 24 hours. So pay attention to it!
Click and See What is Available Inside the Box
Once you obtain it, click the box and check the items contained in the box. Usually, Garena provides you with weapon skins or item bundles which is usually pretty cheap.
Make the Payment
If the price is reasonable for you, you can pay the item through play store, google play voucher or you mobile phone's voucher bill. The price may vary for up to 1 million rupiah.
Claim Your Prize and Use it Forever!
After the payment is done, feel free to use the claimed item that you have already paid. Some people say that if you keep using the item or skin from the box, it is more likely for the box to appear even more.
That's all for the tips on how to use and obtain the Special Air Drop in Free Fire. Stay tuned for more content!