Previously, we have discussed about one of the new heroes named Valentina, this one hero will become a hero mage with poke and brust abilities, now leaks have emerged regarding skills that can copy his opponent. What is this ability like? In this discussion Esportsku has a leak about Valentina's hero skills which are able to copy the opponent's hero skills, now I'm curious what this one's ability is?
In the Naruto anime series, you know Kakashi the imitation ninja, where he can imitate all the jutsu of his opponent. Now this may be Moonton's inspiration in presenting a new hero named Valentina.
Hero Valentina is indeed not a male character, but a very beautiful woman. The most interesting thing is her skill ability which is similar to Kakashi.
Valentina Mobile Legends Hero Skill Leaks
This leak was obtained from one of the leakers named Otep Gaming. In his latest upload, he uploaded a skill leak regarding the new hero Valentina which is very interesting to discuss.
For those who are curious, you can directly open the video above,. For those of you who don't have a lot of quota, you can see the following review.
The skill ability of the new hero Valentina is very unique. Even though we are only presented with the ultimate, you can imagine how the OP of this hero will be if released later.
Especially in the ultimate skill of Valentina's hero, this ability can copy the ability of the opponent's hero. By pressing Ultimate Valentina for the first time, Valentina is like entering her strength into the opponent's hero.
Then press twice, Valentina will imitate her opponent's ultimate ability. Very interesting isn't it, in the example above, Valentina's ability can imitate Chou's ultimate hero. Try it on Yu Zhong's hero, as a result Valentina can turn into a Dragon.
Valentina Mobile Legends Hero Skill Leaks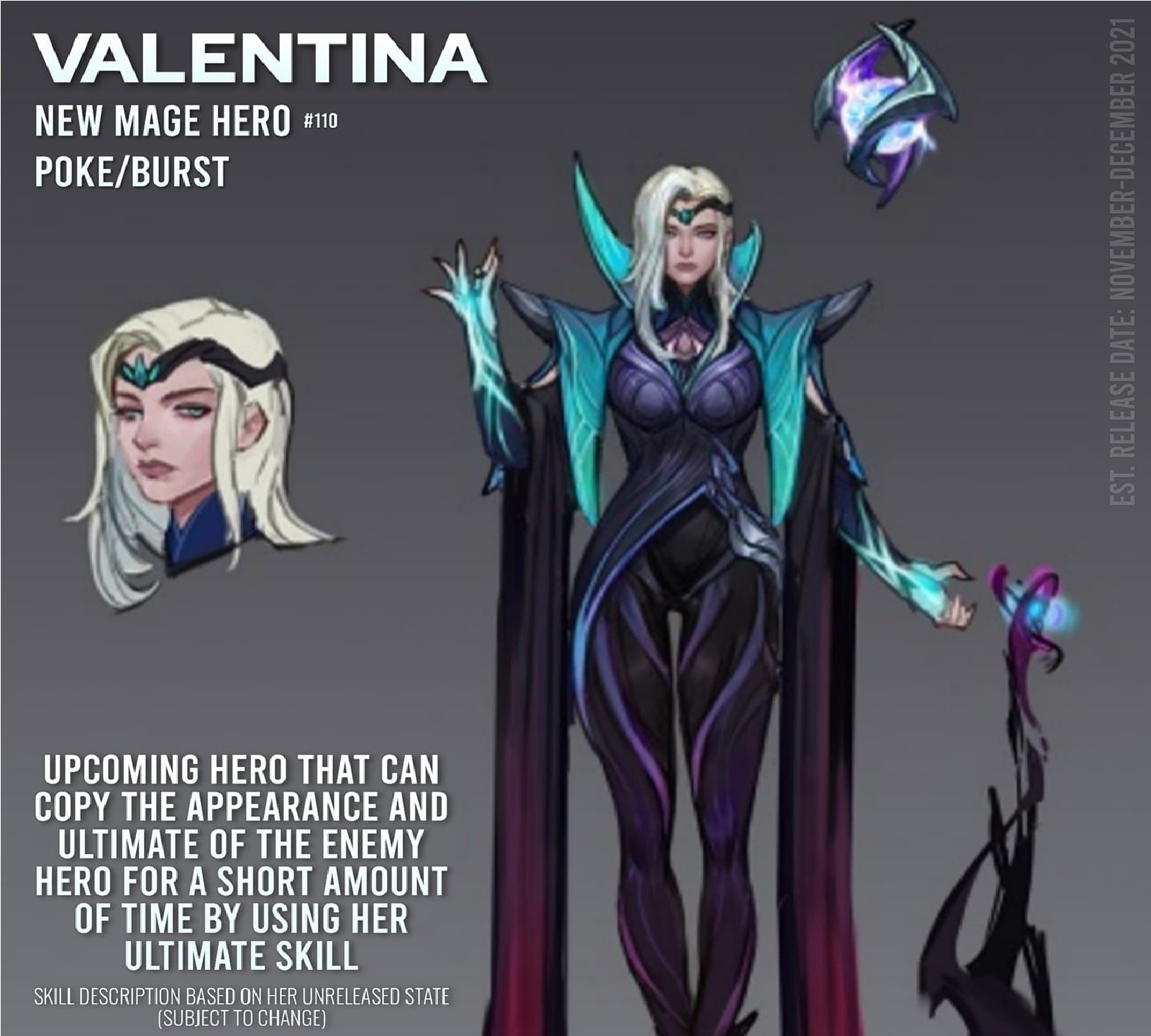 So far, only the ultimate ability is known, even so, this ultimate ability is indeed very OP if it is released later.
As previously we provided information that Valentina's roles are Poke and Burts, for Burst's own ability, we have got an idea that is being able to copy the opponent's ability.
Then for the Poke skill, it is likely to be present in the first and second skills. The term Poke itself is a skill ability that has a fast cooldown so that this ability can continuously suppress its opponent.
The other two skills will be of the Poke or CC type and of course it will be very interesting to wait for the presence of the new hero, the beautiful Valentina to come to the Advanced Server.
So that's all about the latest leaks about Valentina's hero skills, which have skills that can copy their opponent's skills. Very cool isn't it? Hopefully the information above can be useful and see you soon! Keep practicing, play wisely and don't become a toxic player!
Don't forget to follow our social media on Instagram