Free Fire has released a lot of various new updates for you to find in the game. There is a way to get the KFC Free Fire (FF) Bundle, players can collect collaboration prizes that are also interesting from here. Of course, that way you yourself will have KFC Bundle prizes, but there are several processes that we have to go through.
Then for some of the updated features that are currently available, there are indeed various ones, make sure we don't miss all of that. As a good prize opportunity that you will be able to use in the game, it will be very helpful to compete.
The presence of some of the Cool FF Names that players can use now, will surely also bring a good impression when competing. The problem is with a name like this, we will also receive an interesting feature for you to use, it will feel so easy.
In order to get the KFC Free Fire Bundle, it turns out that there is a mission that we have to carry out, so it will take place easily. Make sure you are ready with this, receive a Bonus prize from KFC which is a cool Bundle to use when competing.
How to Get the KFC BundleFree Fire (FF)
See the notice in Free Fire

You have to take part in this event if you log in to the game, so you know the process and also the promo that also takes place with Free Fire x KFC. Later after that you can immediately start the process, so you can immediately get a free Bundle from this event.

Go To The Nearest KFC Outlet

Players can go directly to the nearest KFC outlet first, so that later they can immediately take part in the event. Only in this way will we immediately get this prize and become an opportunity for the players immediately.

Buy a KFC Booyah Package

So players have to buy a KFC Package that uses the Booyah Logo if there is one, so you can get something from here later. This means that later players will have the opportunity to get the KFC Bundle.

Check Purchase Notes

Later from here there will be a Purchase Receipt that you should check, because usually there will be a Redeem Code from there. Make players able to immediately save the code and we will immediately use it later.

Redeem KFC Code

Immediately we use this KFC Code, so we can get the Bonus Bundle prize from here right now. It is an opportunity for players to have these prizes for you to use so coolly.
The special bundle that is present at the KFC Event right now, so that you can get this prize soon. Because it's really cool and we can use it easily, so that later we can receive this nice gift too.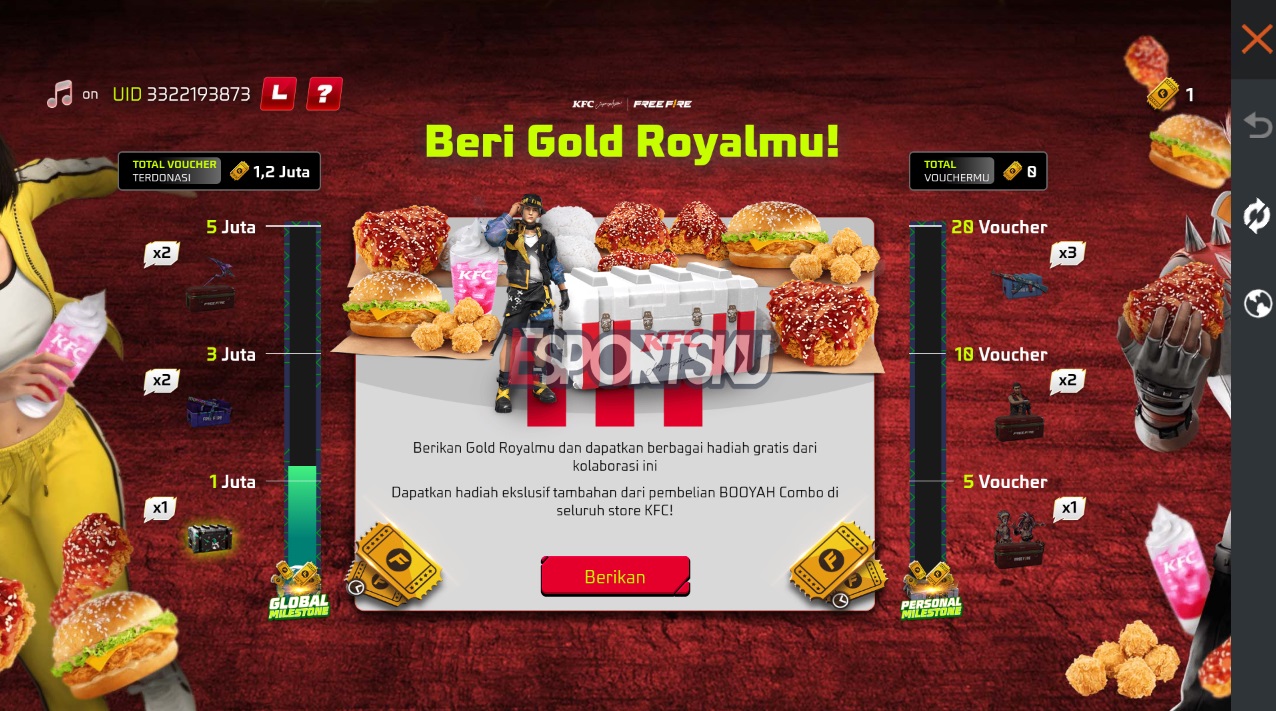 Because then the Free Fire x KFC Collaboration itself is really cool, it even becomes a safe and donation in the game. Then there are also several opportunities to get these good prizes so that we can immediately get these prizes.
As an opportunity, with How to Get the KFC Free Fire (FF) Bundle, you can try it right away and won't be confused because of this. All that remains is to finish the game right away, so you can immediately use it and show the prize.
Then there is also the Free Fire Collaboration List that you can try playing, it turns out it's really cool and you can use it. As an opportunity to have these prizes and use them in the game so that it looks so attractive when playing the game.