Free Fire will continue to release lots of good updates which of course you can see. Especially with the Groza Golden Roar Free Fire (FF) Skin Leak, it's a really good Skin that you shouldn't just miss/ Even with this new leak, Groza weapon users might be interested in the new Golden Roar Skin. Surely you will be interested and eager to try the new Skin. Great and strong power, will definitely make us invincible easily when fighting the enemy.
There are still many cool updates that you can find in this Free Fire game, you have to pay attention to everything properly. Even when talking about the new Events and Missions, you really have to complete them to get the prizes.
Just like How to Get the Free Fire Winter Icerunner Bundle, it turns out that the shape of the Bundle prize is very good for you to get. All of this comes in a special way, so you can't possibly want to ignore one day not playing the latest Event with cool prizes like this.
Groza Golden Roar Free Fire Skin Leaks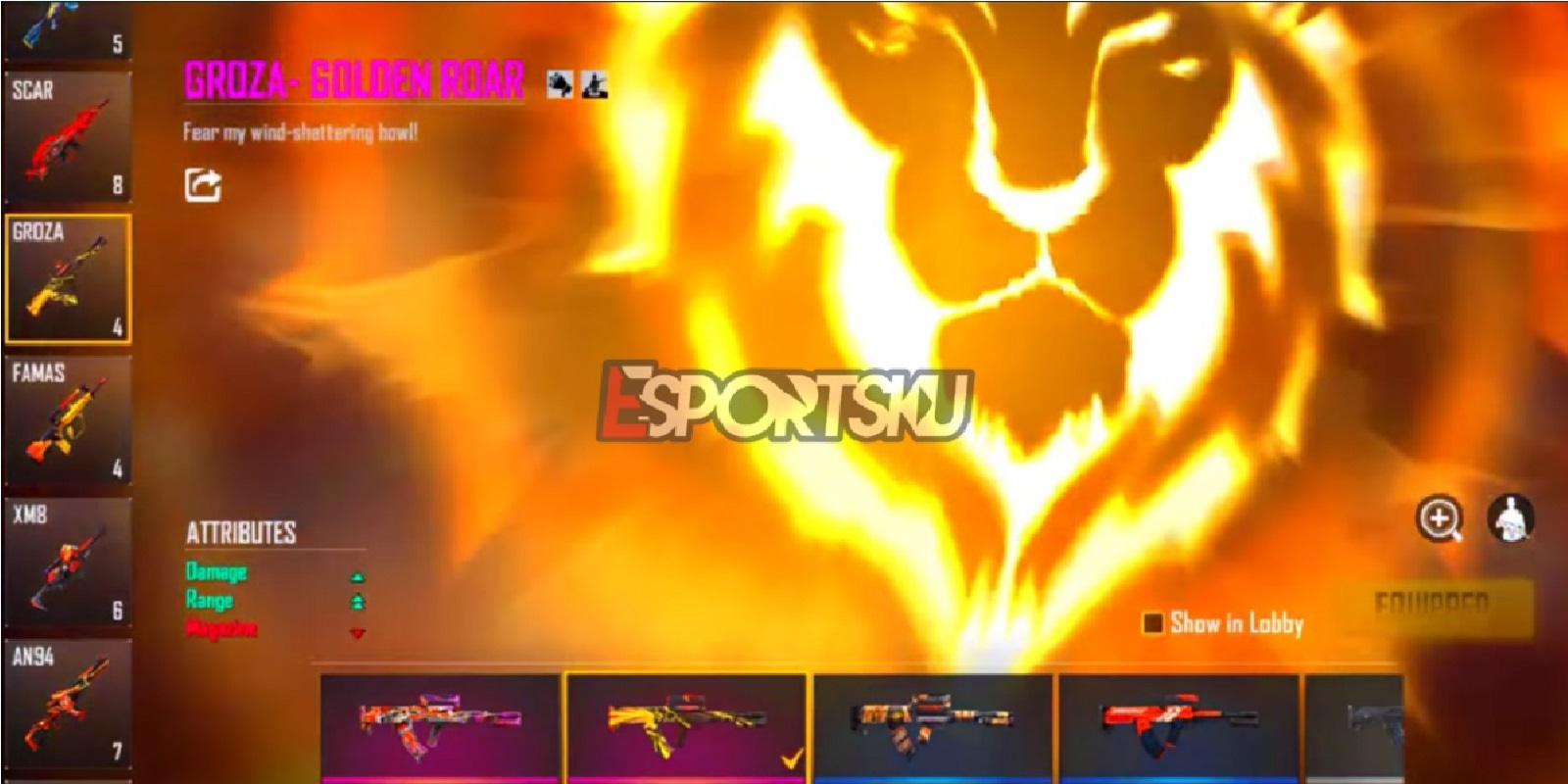 In this leak, you can see the Groza Roar Free Fire Skin which will be released soon on all future servers. Surely with the use of the latest Skin from Groza Golden Roar, you might feel interested and want to continue to experience this game now.
Groza Golden Roar itself has a very good skin, it has a fire aura effect that appears from the tip of the shot bullet until it reaches the back. And has a color that turns out to be identical in color to Black and Orange Gold, like showing great power through hot fire.
But this skin only changes the color and effect, for the problem the shape of the model does not change at all. That way, those of you who have seen the latest Groza Skin Leak now, just choose whether you want to get it or not after its release later.
For Esportsku,  don't know when this new skin will appear, but what is clear is that in 2022, it will immediately get it. Maybe if you have used Free Fire's Strongest Weapon and this cool Skin, your strength when you compete will definitely feel better.
Groza Golden Roar Free Fire Skin Leaks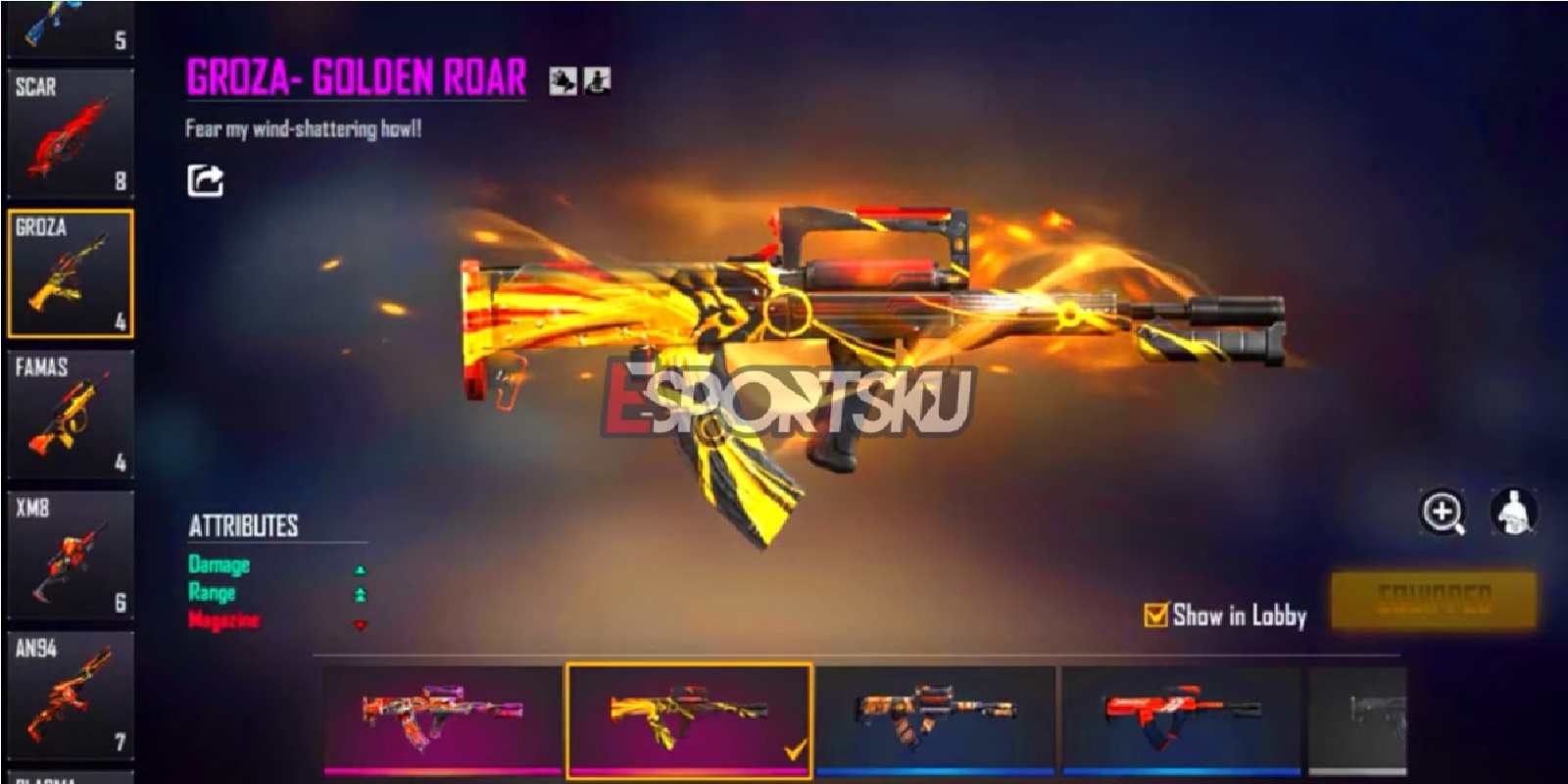 For additional stats that will appear on this skin, it turns out to be Damage +, Magazine – and Range ++ which is where the additional stats like this are quite strong. You will find it easy to attack enemies from a distance, if for example using a skin like this.
After seeing this new leak, those of you who want to have the skin have to wait and can just collect a lot of DM. So that later when the skin has been released in the game, surely you will have no more trouble getting this main prize.
By understanding Tips for Using Groza Free Fire Weapons, you will get a great maximum power from these weapons later.
After knowing the Groza Golden Roar Free Fire (FF) Skin Leak, you already know the shape and appearance of this Skin when it is released. That way you won't be confused later on, when you really want to get a Groza Skin that looks cool. Keep practicing, play wisely and don't become a toxic player!
Don't forget to follow our social media on Instagram and also subscribe our youtube channel