Free Fire has released a lot of event updates, of course the missions are easy for you to try. Then you can find out how to get Crystal Clear Token Gold Free Fire (FF), let's collect it now. Because of this new important token, it will definitely give you something good to use. This means that this includes the parts that we can find in the current Event. Of course, by using Crystal Cleat Token Gold, there will be cool prizes that you can exchange for free.
Moreover, there are still many cool missions for you to complete now, so that the total prize will also be more and more good. All of this is special and you must have it, especially if the mission is already present and you can feel it for yourself now.
How to Get Crystal Clear Token Gold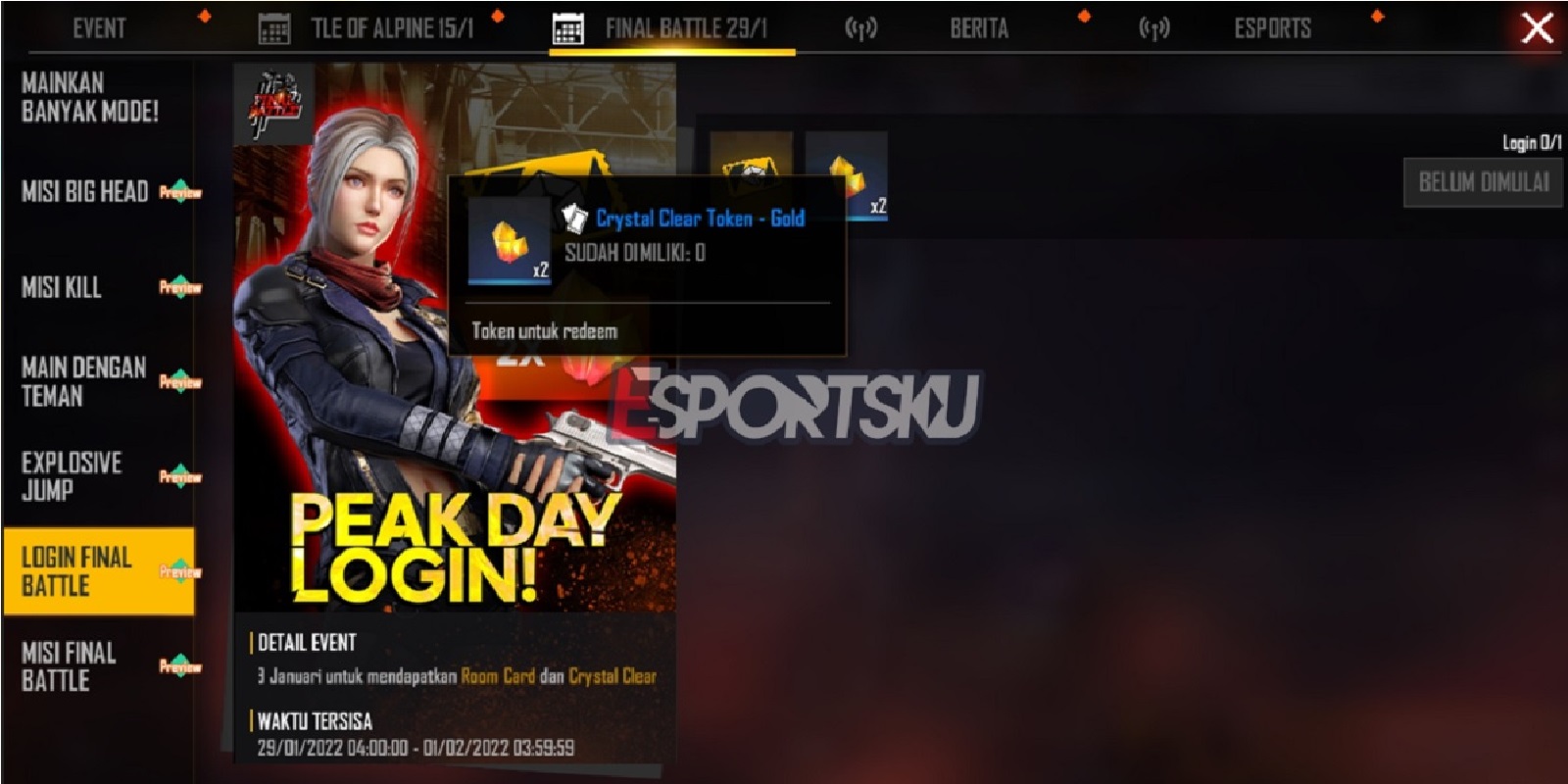 Login to the Free Fire Game
You just login first into this Free Fire game, so you can start collecting Crystal Clear Token Gold right now. The Token collection time period will be 29 January – 6 February 2022, so pay attention to what we need.
Select the Event tab and check the final battle
Next, you have to enter the Event Tab right now, so we can immediately continue playing the mission from the event. Later, just check again the part in the Final Battle, because there are several parts of the mission for you to complete immediately.
Complete Peak Day To Get Crystal Clear Token Gold Free Fire
Players must immediately complete the Mission on Peak Day to get this Gold Token. The date period is January 29-30, 2022, the total is quite a lot at most 10 Crystal Clear Gold Tokens that you will have.
Play in the Weekend Final Battle
After I saw Esports, it turns out that you can play in the Weekend Final Battle Free Fire Event for additional Tokens. It turns out that later you have to login and complete the mission, if you really want to get a token like this. Surely if we have done all that, then we just use the token right away
Use Crystal Clear Token Gold On Token Exchange
If you have collected all the Tokens, then we just need to use them on the Token Exchange now. So that later we can get the main prize from the event and use it when competing against enemies.
Of course, with gifts like this, there are indeed many advantages that you will not get in vain. From collecting Crystal Clear Token Gold now, it turns out that all of this is very easy for players to try for themselves. Keep practicing, play wisely and don't become a toxic player!
Don't forget to follow our social media on Instagram and also subscribe our youtube channel