Mobile Legends has released hundreds of good Skins that are present for the Hero right now. Even with the presence of How to Get Skin Ice Scythe Helcurt Mobile Legends (ML), you won't want to miss this opportunity. Of course with this skin, it will definitely give a pretty satisfying impression. So that it has a cool effect. Every attack from Hero Helcurt has the power of Ice that never melts when it hits the body, so give it to your opponent.
Because with a hero named Helcurt himself, his popularity is indeed quite crowded and you won't underestimate him. Because as a strong Assassin, Helcurt's ability is able to make Role Marksman useless when Helcurt is still alive in the match.
How to Get Ice Scythe Helcurt Skin Mobile Legends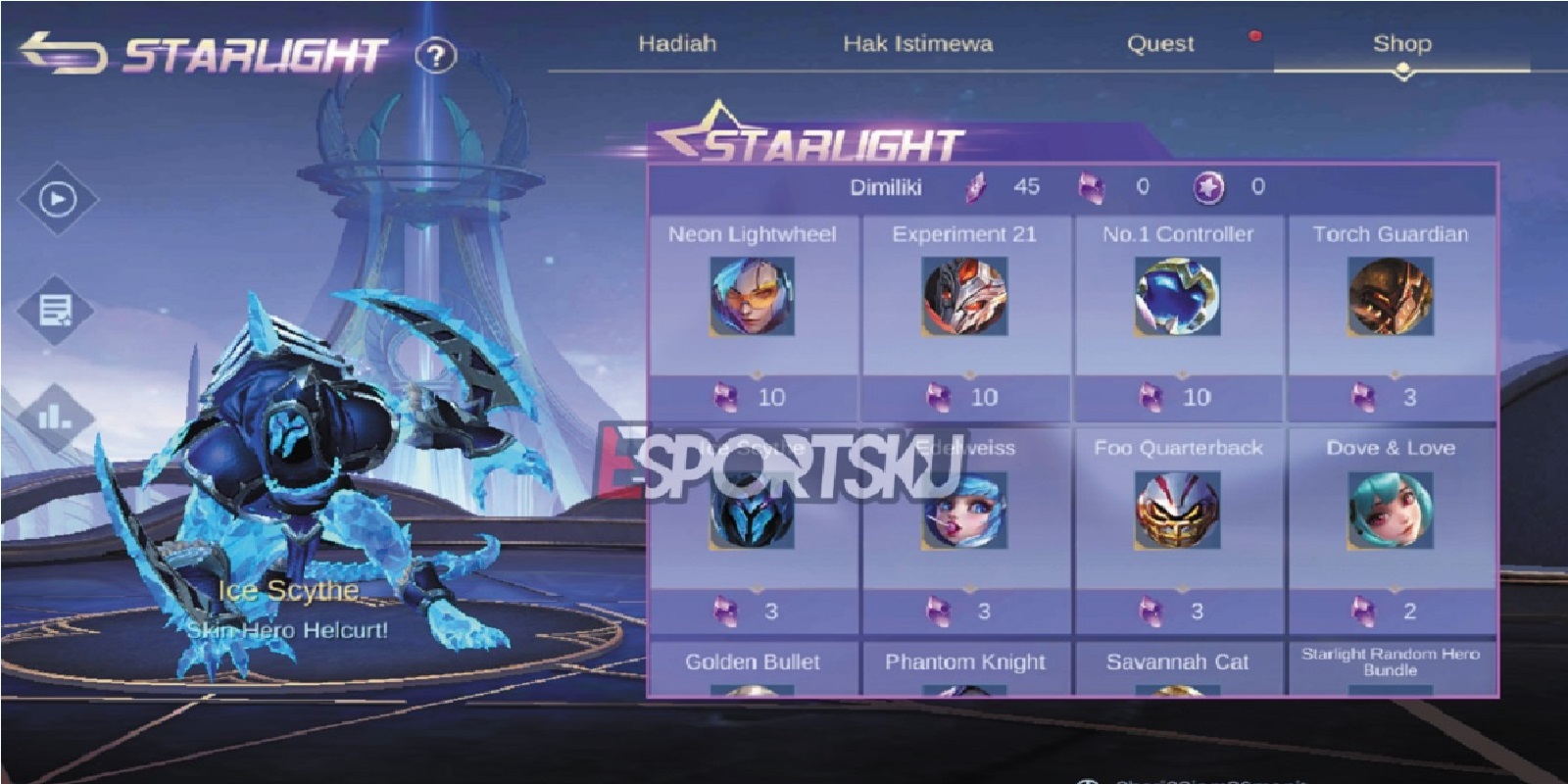 Enter Mobile Legends Game
The first step you have to enter first into the Mobile Legends game now, then it will be easier for us to get this prize. As something new, of course Skin Scythe will indeed continue to be in Mobile Legends until there is another skin that makes that position shifted.
Choose Starlight And Shop Features
This Starlight is a limited and special Skin purchase feature. You just need to enter the feature right now, then there will be a category called Shop. You just have to press it so you can continue the next process in getting this new Skin from Ice Scythe.
Check Ice Scythe Helcurt's Skin First
Esportsku suggest you to first see a preview of this skin, in terms of fashion and color. Then in the Skill effect section, of course you can see it on Youtube or Helcurt players who use this Skin in the Live feature.
Exchange Starlight Gems To Get Ice Scythe Helcurt Skin
Then if you want to get this gift, then just use the Starlight Gem right now. Just exchange these 3 Starlight Gems for the Ice Scythe Helcurt Skin, if you want this Gem you have to buy 3 Starlights and that means there are 3 Fruits before you get it.
Ice Scythe Helcurt Skin is Ready to Use
If you have already got the Ice Scythe Helcurt Skin, of course it is indeed interesting for us to use it right now. Show this icy cruelty of Helcurt while playing and facing even the strongest enemies.
The skin that Helcurt has is indeed Elite, but because the way to get it is quite different, of course you have to know first. Usually it only takes 599 Diamonds in the shop, but if we total this, we have to spend around 400 thousand to get it. Keep practicing, play wisely and don't become a toxic player!
Don't forget to follow our social media on Instagram and also subscribe our youtube channel