Mobile Legends has released a lot of very cool latest updates for you to try right now. Because for how to get the Natalia Midnight Raven Mobile Legends (ML) skin, you will get a lot of prizes. Especially for the appearance of Natalia's Skin like this, it will definitely make the Hero even stronger. You can try right away right now. Because with the cool Natalia Skin, it will definitely make the player invisible when attacking from the shadows.
There are also many new Mobile Legends events, we can just finish it now so we don't get confused. Because by participating in new events in this game now, you will definitely give a variety of good prizes that you can have right now.
How to Get Natalia Midnight Raven Skin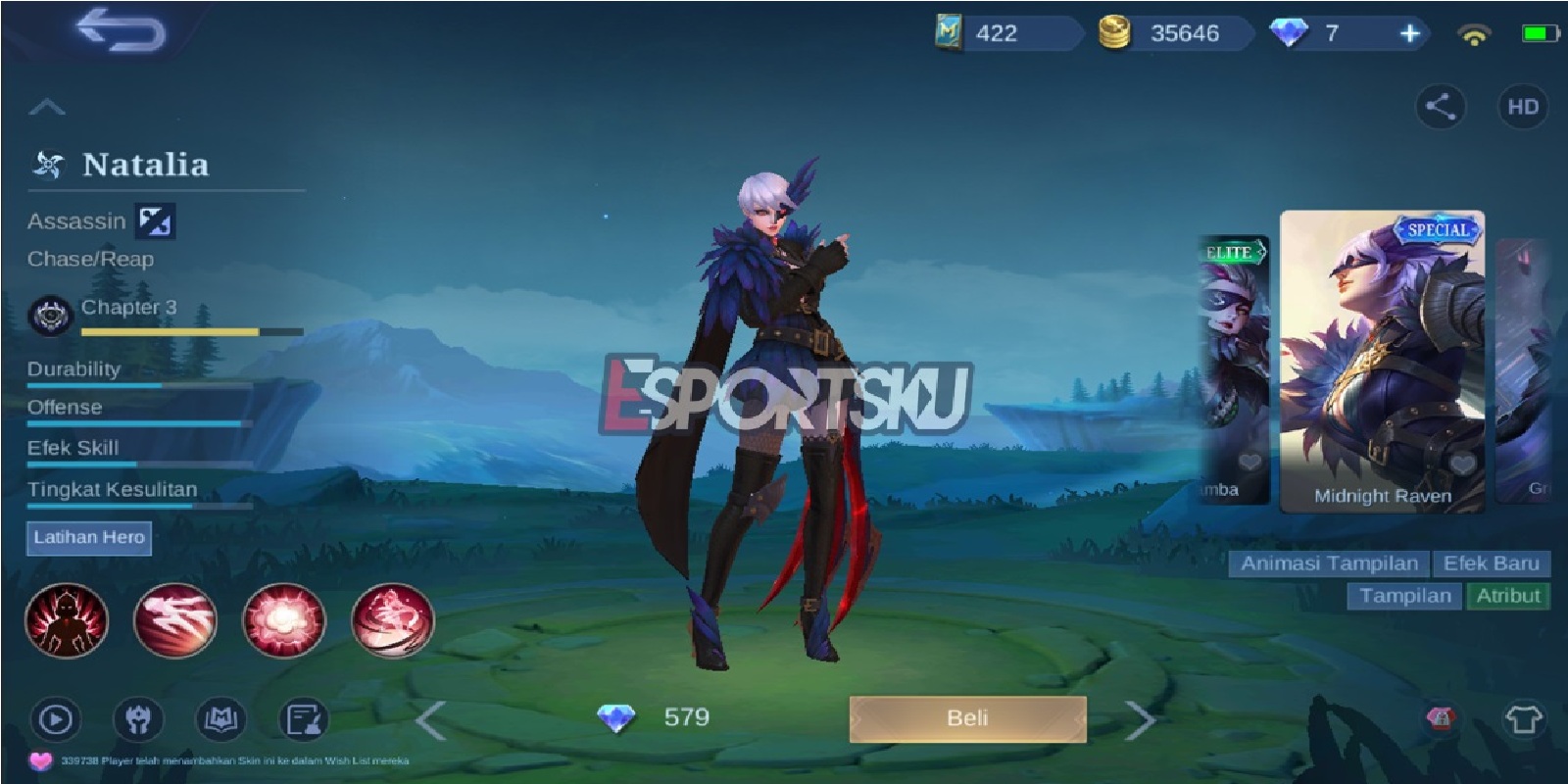 Enter the Mobile Legends Game
Players must enter the Mobile Legends game, so that we can get the newest Natalia Midnight Raven Skin. Esportsku also has several ways that have been found, so that later you can get Skins like this.
Buy from Shop to Get Midnight Raven Skin
If players really want to have this skin, they can go directly to the Shop section, so they can also find the Midnight Raven Skin in the Skin Category. You can buy it directly at a price of 749 Diamonds, it will be sent directly to your account.
Through Some Special Events
In this Mobile Legends game, there are several special events that players can participate in. Even some of these events will definitely give you a Special Skin prize, just like we can receive a cool Midnight Raven Skin from it.
Win a Giveaway to Get a Midnight Raven Skin
If this really depends on the prize from the Giveaway too, you can DM or Special Skin via Gift which of course you can try. For example, if you manage to get a Skin, then decide and maybe you want to choose a Midnight Raven Skin like this.
Natalia's skin is ready for us to use
If all of you have got this Skin, then just use it in battle to make it even cooler. Because the effect that Natalia gives using Midnight Raven is much darker, from the name of the Skin it looks very clear. Let's bring the effect of the middle attack even that the enemy can't resist.
The number of new update events in the Mobile Legends game does make you curious, especially if you have business with the mission as well. It looks really diverse, so players can try it well, so they can have this latest gift right now. Keep practicing, play wisely and don't become a toxic player!
Don't forget to follow our social media on Instagram and also subscribe our youtube channel