Free Fire has released a lot of the latest updates which of course you can try. There is also a way to get Pan Hiphop Face Free Fire (FF), immediately have this skin and use it when competing later. Of course, with a position like this, it will definitely make you more enthusiastic in dealing with the enemy. It will definitely make you stronger than before. Because indeed with prizes like this, it looks cool and strong in hitting the enemy when competing.
Including the missions that we usually use when competing later, it will definitely give a different impression when you try it. Especially with the missions that appear now, you can complete them right now if you really want to get prizes like that.
How to get Pan Hiphop Face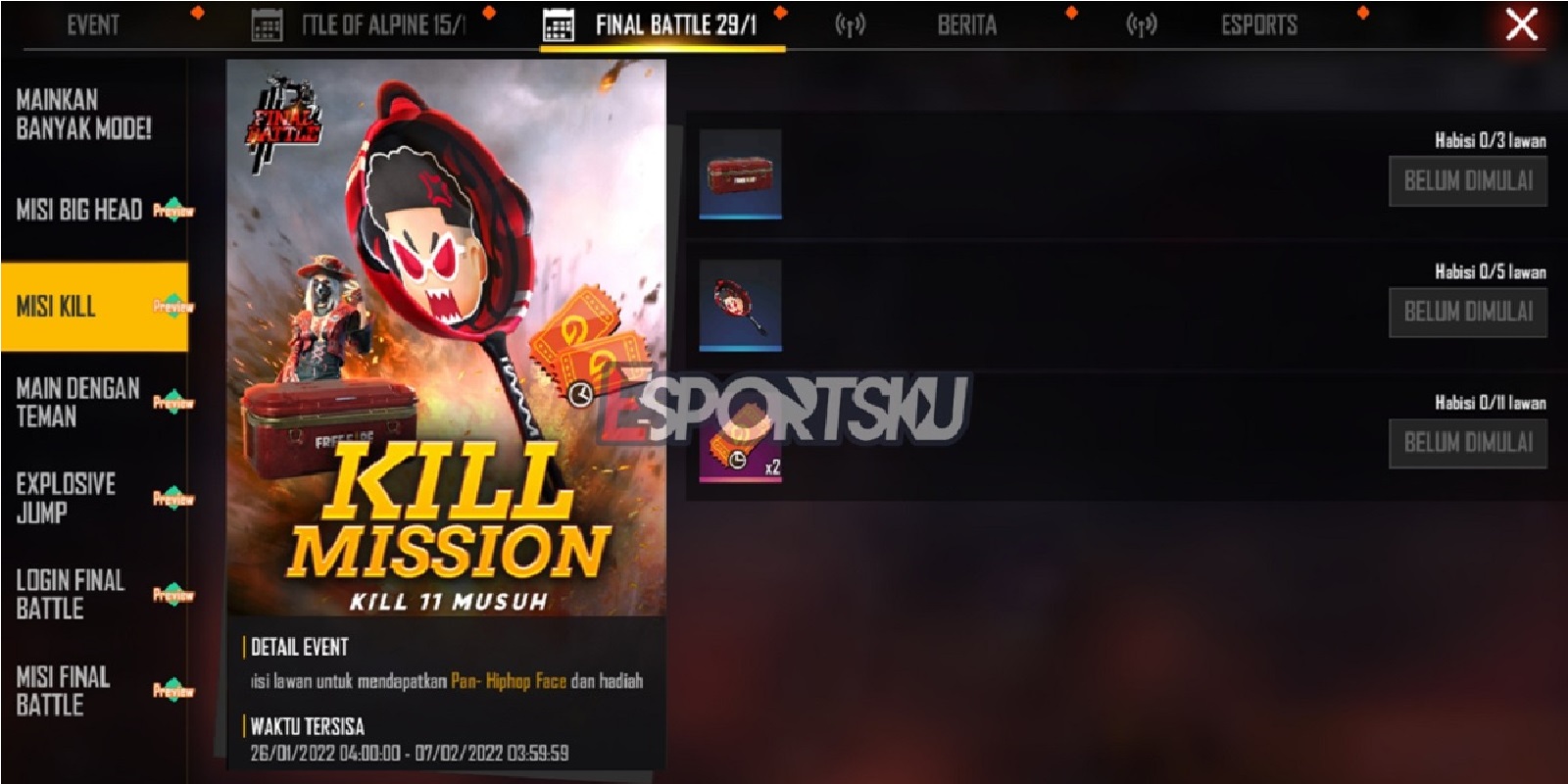 First Login Into the Free Fire Game
You must first login to the Free Fire game now, so that later you can get a Skin gift item like that. Of course with the Pan Hiphop Face that we get now, this event period is also from January 26 to February 7 2022.
Select the Event tab and look for the kill mission
Next, players can choose the Event Tab on the right, so they can find any event missions that have appeared. Later when you guys are looking for the Event, focus on the Kill Mission which of course we can get from here.
Kill 11 Enemies To Get Pan Hiphop Face Free Fire
Then you can just finish this mission by doing 11 kills, if you want to get the prize. Because based on my current Esports observations, it turns out that you only need to kill 5 enemies if you want to get the Pan. If it reaches 11, it means that there are additional prizes that we can get.
Play Clash Squad Mode
Then you can just play in Clash Squad Mode, because this is the best advice from my Esports for us to do. Because Mission 11 Kill itself will not look difficult if it is like this, even you will also be faster than before to get a gift like that.
Receive Pan Hiphop Face Free Fire Gift
If indeed you have done all this, then just accept the gift immediately and use the Pan Hiphop Face. It will definitely make the character look so cool, then hit the enemy in a match without any fear at all.
Because with the presence of the Pan Hiphop Face Free Fire prize, those of you who like this skin will immediately solve it. With gifts like that, it's clear that we don't want to miss a day to collect various skin items and gifts from here. Keep practicing, play wisely and don't become a toxic player!
Don't forget to follow our social media on Instagram and also subscribe our youtube channel