Free Fire has released a lot of interesting events that you should see now. Especially with How to Get Tie Dye Bucket Hat Free Fire (FF), of course this will make the character even cooler. Because by using a Skin Hat like this, your character is protected from the hot sun. Get the Skin Hat right now. So that later your female character will use this item, it will definitely look much more responsive than before using it.
Moreover, there are some good events that of course you can find now, if you really want to continue to get gifts like that and take advantage of them. Then with so many missions, as well as cool prizes that you will get for free, it is very superior in conditions like this.
How to Get Tie Dye Bucket Hat Free Fire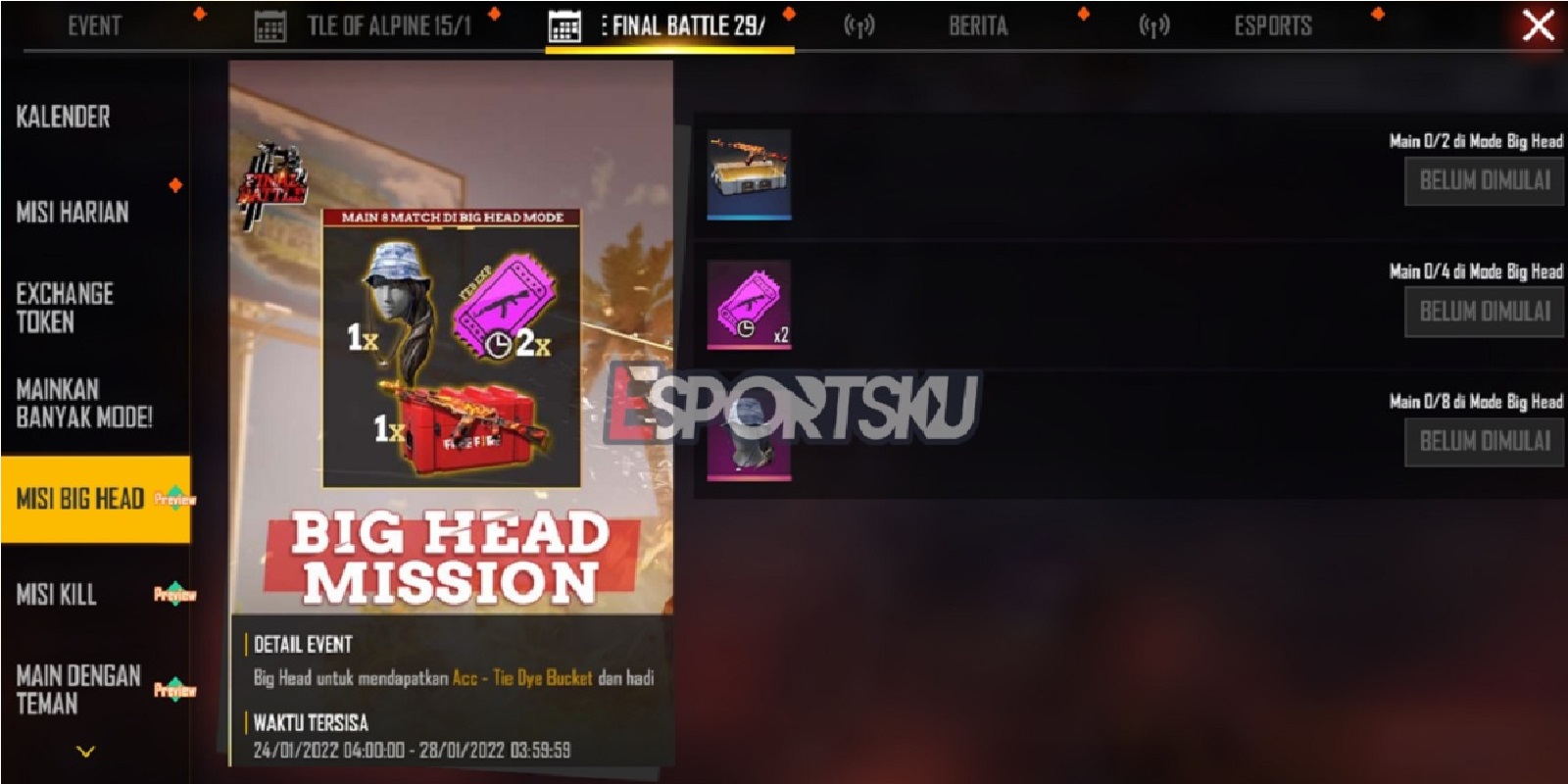 Enter the Free Fire Game
The first thing you have to do is enter the Free Fire game first, then you will see the new mission. Including for Tie Dye Bucket Hat this time, players must get the Skin starting from January 24 – 28, 2022 to come.
Select the Big Head Events and Missions tab
In order to know more about the missions that we will get this time, then you have to just enter the Event Tab. Then after we enter, we can immediately choose the Event mission category which has the name Big Head Mission right now.
Play Big Head Mode To Get Tie Dye Bucket Hat Free Fire
You have to play in Big Head mode first, so you can get this Tie Dye Bucket Hat Skin now. Play 8 times in this mode, then you will have the opportunity to get the main prize directly.
Can Mabar Too
Realizing that I have tried Esports myself, you can grow up in this Mode called Big Head now. So that friends can also get the gift, then use it on the female character and make it look more beautiful.
Tie Dye Bucket Hat Free Fire Prize Enters Vault
Then you can immediately select the feature called Vault, then complete information will appear with all of that. Just use the skin, if indeed you can immediately use it and use it now.
Because with the presence of this event, surely you will like it and want to continue to use it when competing later. The shape of the hat itself can be seen in blue, then it has long brown hair when using a skin like this. Keep practicing, play wisely and don't become a toxic player!
Don't forget to follow our social media on Instagram and also subscribe our youtube channel