There is a leak of the latest Tigreal Mobile Legends Starlight Skin that will be here. This time Tigreal looks very different with significant skin changes, you can get this one skin in mid-2021. Esportsku this time will give a leak about the appearance of the latest Starlight Skin Tigreal Mobile Legends. Listen carefully and make sure you have this skin that has been released later.
Tigreal is one of the best tank heroes you can play right now. This hero tank is very popular in ranked mode and is one of the anticipated tanks. This is because Tigreal's ability as a tank hero is indeed invincible.
Tigreal is very strong with a deadly combo. Moreover, Moonton presents its newest skin for tigreal which is included in the starlight skin line in Mobile Legends. You can buy and get this one skin.
Moreover, Tigreal himself has not received his newest skin after the revamp was presented. Previously, only the elite revamp skin got changes. Of course, after the revamp, Tigreal users are waiting for the latest skin from this hero tank.
Luckily for you Tigreal users, this hero will get his newest skin which is included in the Starlight skin which will be released in mid-2021. What does this skin look like?
The appearance of Tigreal's latest Starlight Skin in Mobile Legends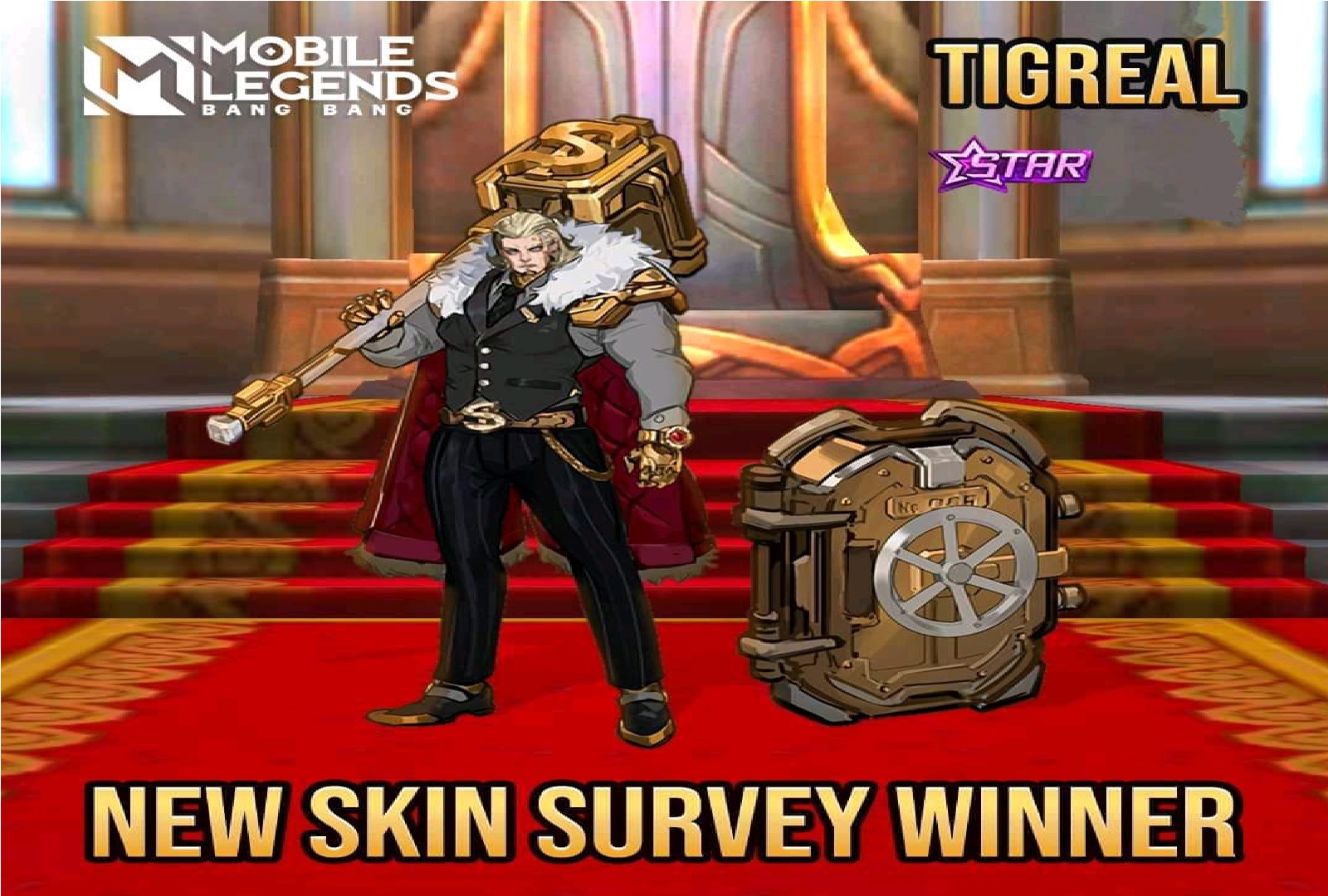 The new Starlight skin, Tigreal in Mobile Legends, just got a winner from the survey that was present. This time Moonton gave a theme like Casino on this tigreal skin. The Tigreal has a handsome appearance and uses a very large hammer.
Not only is the huge hammer gold colored, Tigreal also uses a very large suitcase as a shield to fight. This time Tigreal appeared very muscular and also dignified.
On Tigreal's hammer and belt there is an S which seems to be short for Starlight. Which this skin will be the newest starlight skin later in Mobile Legends.
Regarding the price of the latest Tigreal Mobile Legends Starlight Skin? As you already know, you can get your own Starlight skin in certain months, for the price itself, it is around 500 diamonds.
You just need to subscribe to Starlight Member in a month and you will get this one skin and many other very interesting skins. Also make sure you get other prizes in the Starlight Pass.
Unfortunately, there is still no information regarding the release date of the newest Starlight Skin Tigreal Mobile Legends. What is certain is that currently there are several skins waiting to be present, including for February there is Lapu-Lapu, and then in March there is a Khufra skin and maybe in the following month it is Tigreal.
That's it for the information on the leaks of the latest Starlight Skin Tigreal in Mobile Legends. Hopefully this review will be useful, especially for those of you who are Mobile Legends gamers! See you later. Don't forget to keep practicing, play wisely and don't become a toxic player!
Don't forget to follow our social media on Instagram