Mobile Legends is one of the best games that always presents its best variety of events, after previously presenting the KoF event which provides free Epic skins, this time they are bringing back free skins at the Latin Challenge Exchange event.
The Latin Challenge Exchange event is one of the events that is present for Latin American countries. Which at this event Moonton gave several free skin prizes. So you can see further reviews about the event below.
This time we will explain a Latin Challenge Exchange event in the Mobile Legends game. At this event, Moonton will give various attractive prizes, one of which is a free skin that players can get.
Latin Challenge Exchange Mobile Legends Event
Latin Challenge Exchange is a special event in the Mobile Legends game that is present for Latin American servers. Which if you take part in this one event you will get free skins in Mobile Legends.
You can get quite a lot of skin prizes. mu; ai from the Wings of Heaven, Blue Storm, Respiendent Iris, and Ruddy Dusk skins. Which skin can you get from one of the Random Skin Bundle items. Which you can get this item in exchange for an item called Iced Lemon Tea.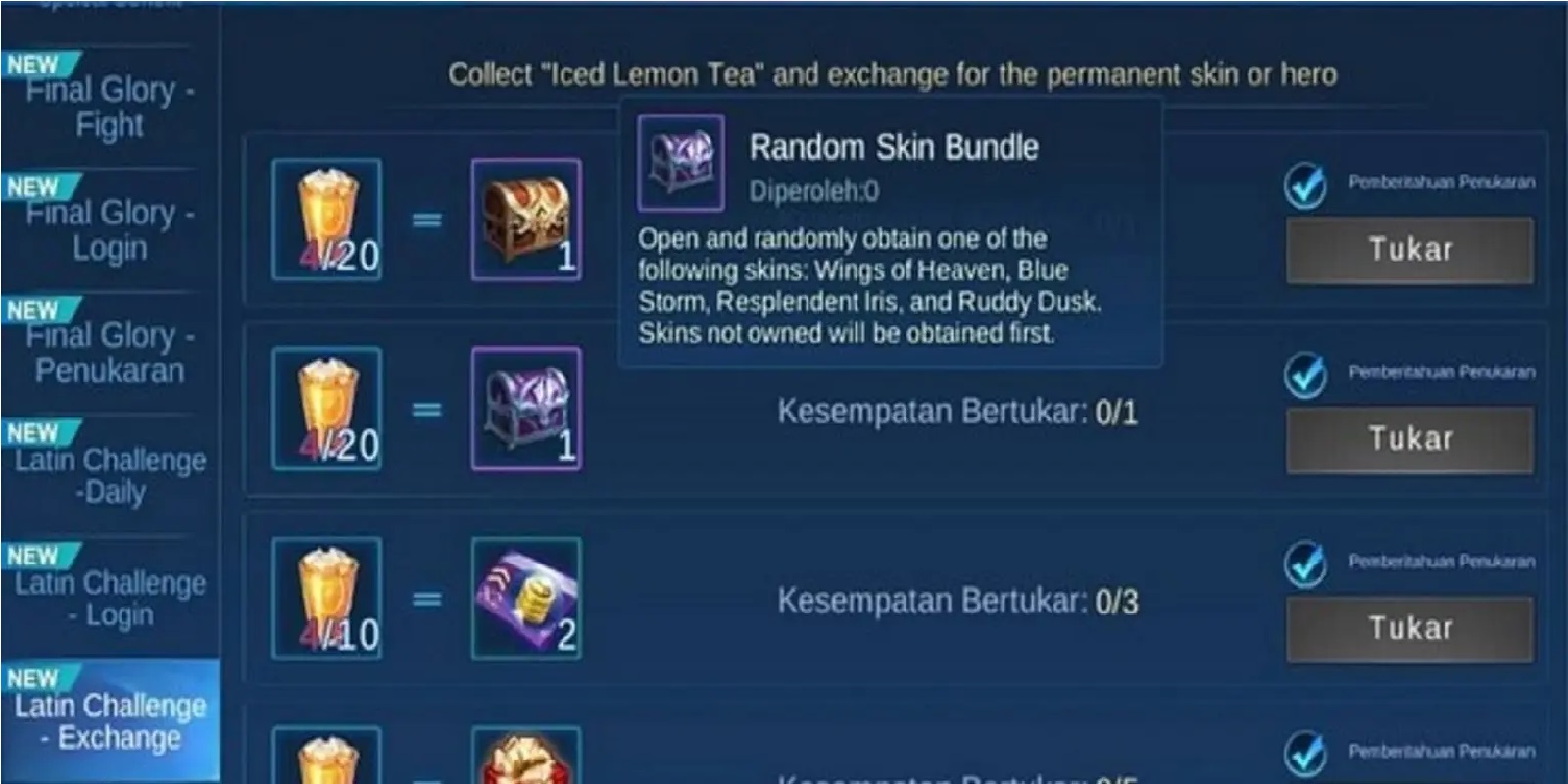 Just like other events, you only need to play here to get an Iced Lemon Tea item, starting from sharing events, playing with friends and also others. By collecting about 20 Iced Lemon Tea, you can exchange it for a Random Skin Bundle item and get one of the 4 skins for free.
Even so, unfortunately you cannot participate in the event for those of you who are in the Indonesian region. Even by using a VPN, you cannot log into Latin America servers.
This also applies to other VPN users. The VPN itself is indeed a safe plug-in to use, but Moonton has provided an update to the Mobile Legends game, so the use of the Mobile Legends game can't be used anymore.
Which means, even though you want to use a VPN to enter events from other servers, push MMR using a VPN, this action is no longer valid in Mobile Legends.
The Latin Challenge Exchange event can only be participated by players from Latin America servers, and for those of you who are Southeast Asian server users. You can take part in the upcoming free skin event.
One of the events that provides its own free skin is the Halloween Event which will start on 27 October. You can see the full review here.
So that's our review of the Latin Challenge Exchange event in the Mobile Legends game. Hopefully our review above can be useful especially for those of you who are Mobile Legends gamers. Don't forget to follow @esports.ku