Mobile Legends has released lots of interesting missions and events that you can complete. Then it turns out that there is also a way to get Battle Suit Fragment Mobile Legends (ML), that way we can get more prizes. But don't miss an opportunity like this, because the prizes are really good and very interesting. It means you are ready with all of this. Various prizes and also the opportunity to get bigger prizes, if you use Tokens like that.
Moreover, with several new prizes available, Mobile Legends players can immediately complete all these missions right now. After all, this is an event with the theme Aspirants, one of the Special Anime skins that has finally appeared in the Mobile Legends game for all of you.
How to Get Battle Suit Fragment Mobile Legends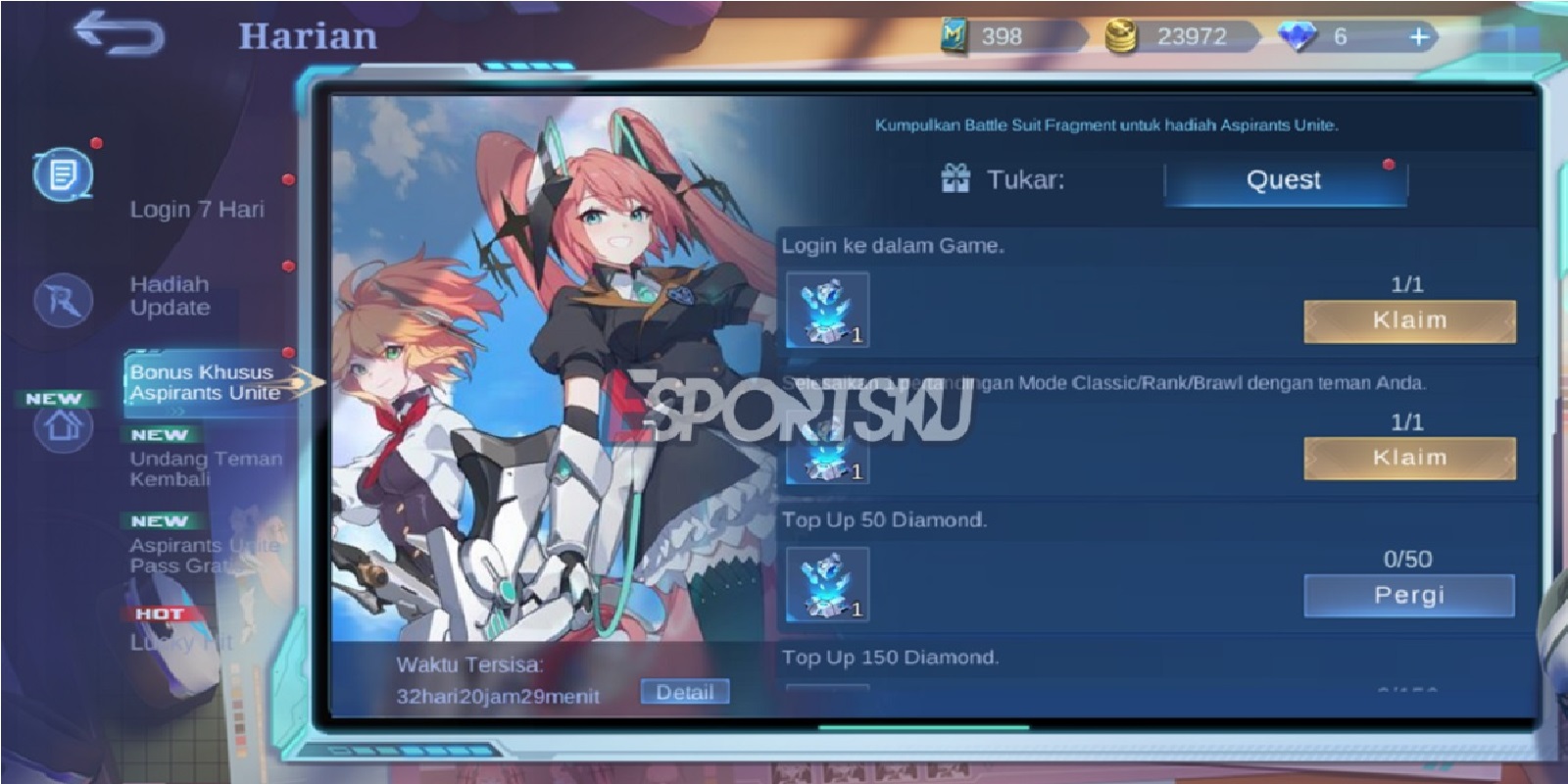 Enter the Mobile Legends Game
The first thing you have to do is login to the Mobile Legends game right now. That way you will immediately meet the game lobby, to continue the event. This new event will take place from January 22 to February 24, 2022.
Choose an Event And Look For A Special Aspirants Unite Bonus
Then you can search for the event title and event title category named Special Bonus for Aspirants Unite Mobile Legends. Press it and we can immediately start seeing what prizes appear and players can get if they finish later.
Use Quest Features
Then select the feature called Quest, so that later you can see what missions we have to complete from here. It turns out that you only need to login, top up and play with friends but you have to win. If you guys do all those missions. then we can get the Battle Suit Fragment immediately.
Legal Top Up
Players must top up legally in this situation, of course by doing this we will definitely be fine. Because Legal Top Up is clearly safe, don't be tempted by cheap but illegal Top Ups because it's really dangerous.
Exchange Mobile Legends Battle Suit Fragments with Cool Gifts
Then if the Token has been collected, then you can immediately exchange it for the main prize from this event. Of course, the total is quite a lot, it will definitely present interesting things so that we can have all of those things better.
Some of the events that have appeared in the Mobile Legends game this time, it seems quite interesting and we can use it as best we can. That way make sure you don't miss it, because the mission alone is quite easy. Keep practicing, play wisely and don't become a toxic player!
Don't forget to follow our social media on Instagram and also subscribe our youtube channel