Mobile Legends has released many new events which of course provide attractive prizes. Then how to get Miss Hikari's Avatar Border in Mobile Legends (ML), you will definitely be more interested in this. Especially with a grand prize like that, it will definitely make you look cool from the Border Avatar now. Come on, let's have the latest gifts from here. So that later the avatar on your account, will be cooler with an Avatar like this.
Because there are more and more prizes for this new event, of course it will provide something good for us to get. Then with the event that has been released now, you can definitely give a lot of prizes, all of this will have a much better impact.
How to get Miss Hikari's Avatar Border in Mobile Legends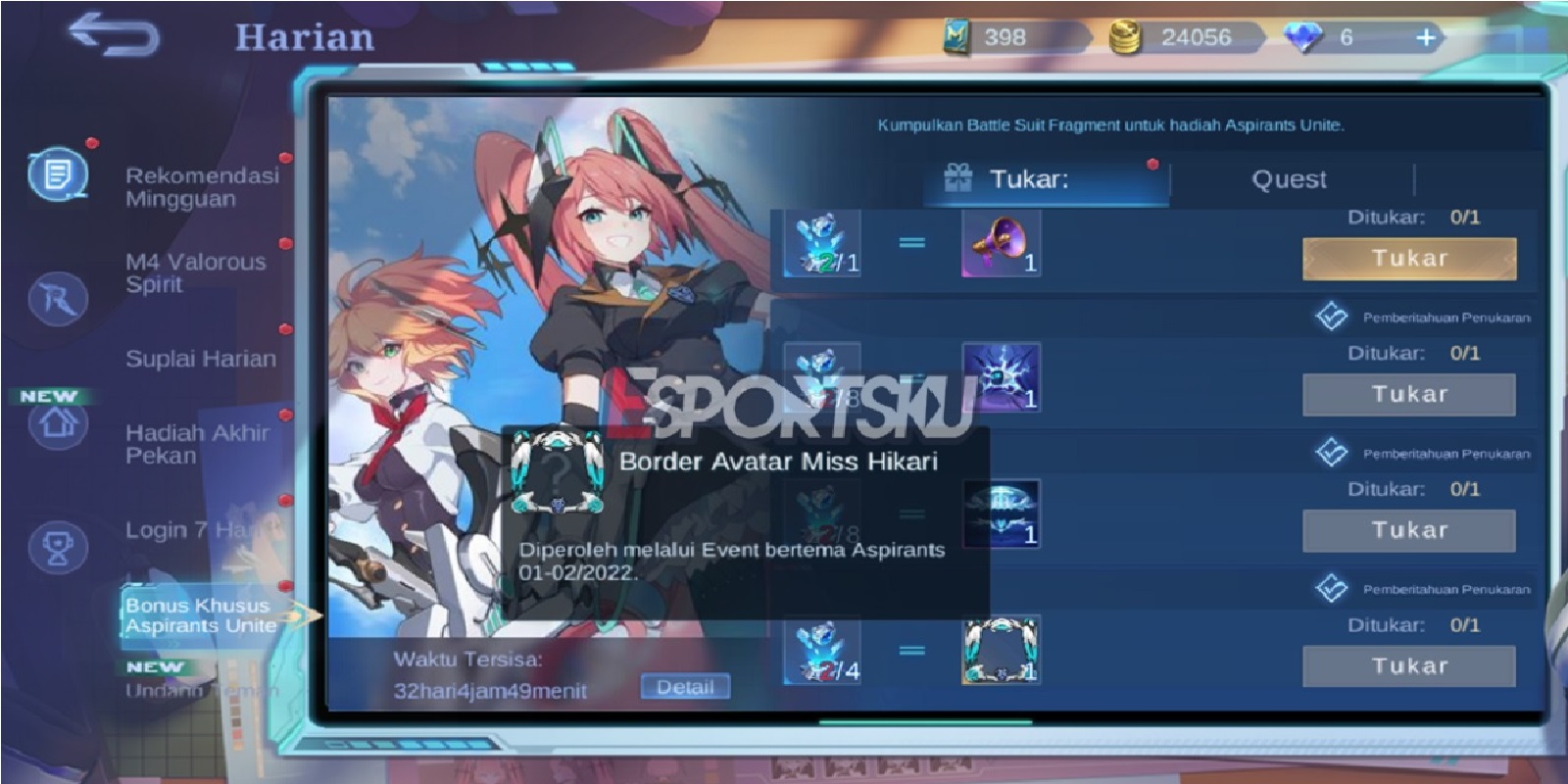 Enter the Mobile Legends Game
You must first enter the Mobile Legends game right now, so you can immediately follow the event without missing anything. Then for this Miss Hikari Border Avatar, you can only get it from January 22 to February 24, 2022.
Access the Events Tab and Bonus Events for Unite Aspirants
Then you can directly access the Event Tab, its position is on the left side of the cellphone screen. Later, when we enter, we just choose the name Bonus For Aspirants Unite, because only from there we can get Miss Hikari's Avatar border for free.
Collect Battle Suit Fragments To Get Miss Hikari's Avatar Border
Players must know how to get Battle Suit Fragments in Mobile Legends, so we can collect and exchange them with Miss Hikari's Border Avatar. Of course, with this border, it will make the character's avatar cooler when competing and enemies or friends see it.
Exchange Miss Hikari's Avatar Border in Mobile Legends
If you have collected Battle Suit Fragments, then we can immediately exchange them with Miss Hikari's Mobile Legends Border Avatar. Only by using 4 Battle Suit Fragments, you guys can use them right away.
Use Miss Hikari's Avatar as Profile
You can immediately use the Avatar if you already have it, in the Border Avatar Profile section now. Of course, with the appearance of your account when your friends see it, it will definitely feel very different and it will definitely feel quite profitable.
Getting an Avatar of Miss Hikari itself is one of the right choices, so that later you can have a cool look like this. Of course, by using this, your account will look more different than before. Keep practicing, play wisely and don't become a toxic player!
Don't forget to follow our social media on Instagram and also subscribe our youtube channel