Mobile Legends which has released many good updates which of course you can try. Especially with How to Get Recall Return Of Hope in Mobile Legends (ML), it turns out that it's very easy for you to try. It will definitely be more exciting than before, so that we ourselves will not be able to miss it later. It means that you are ready to have a cool gift like this. So that later when you want to recall, bring up cool and good effects for you to use.
Then there are also
good events that you can try, because there are lots of prizes for you to get right now. Even to finish all of that, it will definitely give the players a chance so they won't ignore all of this now.
How to Get Recall Return Of Hope Mobile Legends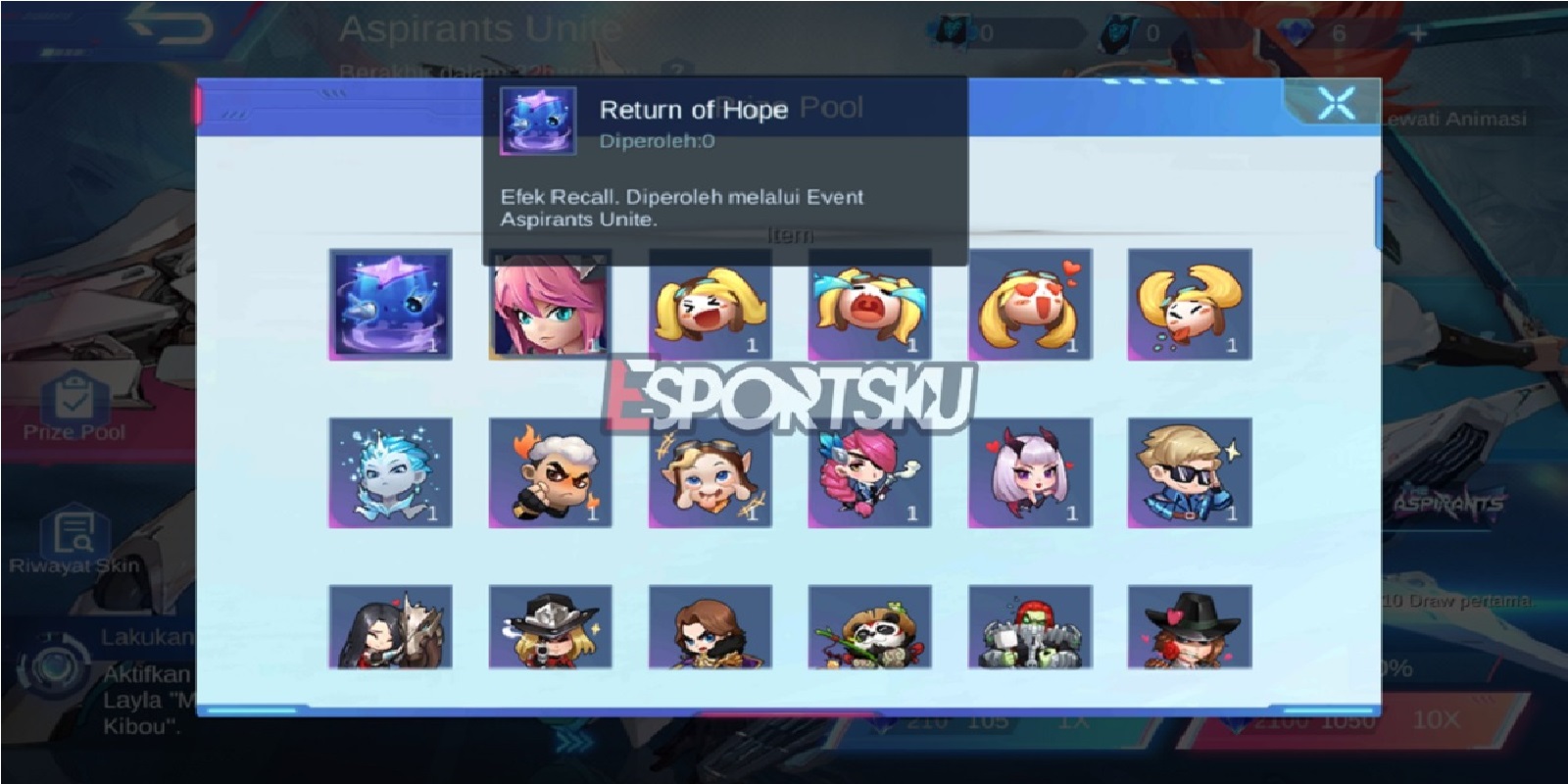 Login into Mobile Legends
Then you can directly enter the Mobile Legends game first, before you can get this main prize. This Event period will run from January 22 to the end of February 2022, so of course they will be as useful as possible.
Choose The Aspirations Unite Event
Then you can then access the Aspires Unite Event, the icon is in the form of a round electric portal. Of course with Aspirants Unite, you will immediately find interesting Spin Event Features for you to use.
Spin To Get Recall Return Of Hope
Next you have to be able to get a Recall Return Of Hope, you have to do Spin first. 1 Spin 210 Diamond and 10 Spin 2100 Diamond for a bigger chance, if it's hockey, you can get it with just 1 spin.
Through the Orb Of Hope
If you want to get other prizes, you can use the Orb Of Hope right now. But you have to do Spin first, because you will have a great chance to get a Recall from here. Come on, have it and will also get you Skin from here.
Recall Return Of Hope Effect Entered Prep
If the player has received the Recall Return Of Hope, it will enter the Prep feature. Let's just have the prize from now on, don't let there be any more important parts that you have to feel now. Use it immediately, if you already have the gift.
Because by having a Recall Effect like this, we can immediately use it ourselves now. Of course with these effects, Return Of Hope will bring up a lot of hope for us to compete later. Keep practicing, play wisely and don't become a toxic player!
Don't forget to follow our social media on Instagram and also subscribe our youtube channel