Mobile Legends has released a lot of good updates which of course will give new prizes. Then there is also How to Get Skin Paint 515 M-World Mobile Legends (ML), it is very interesting for you to use. Of course with a gift like this, it's great and you should use it later. It's a very easy method for you to try. Make sure not to miss an opportunity like this, because the prize will also be included as something limited or rare.
Even with several events that have appeared in the game, of course, you will get various prizes. Will give a lot of very cool prizes, so players can continue to get lots of very cool prizes.
How to Get Paint 515 M-World Skin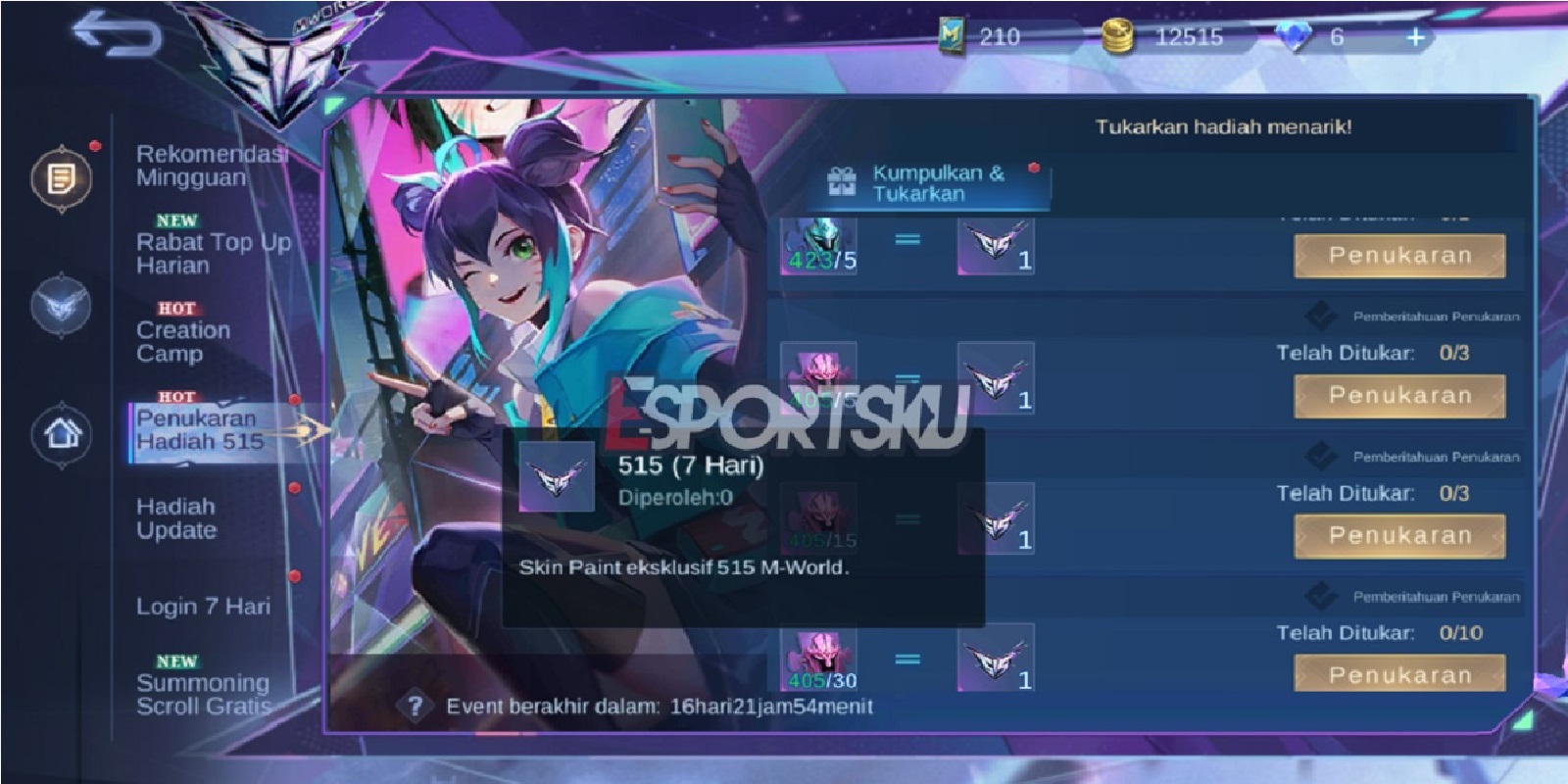 Login Mobile Legends First
So that later you can get this Skin Paint 515 M-World Mobile Legends, you can directly login to Mobile Legends first. Moreover, this will take place from April 29 – May 23, 2022 which will come.
Enter the Event and Choose 515 Rewards Redemption
Then we can directly enter the existing Event, then look for the section called Gift Exchange 515. Of course that way you will immediately give a lot of good prizes and we can see it right now.
Exchange Skin Fragments to Get Skin Paint 515 M-World
Then the player just exchanges the Skin Fragment to get the existing 515 M-World Skin Paint. You can use Premium and Rare Skin Fragments, if this prize will also depend on the Fragments you exchange.
Understand Mobile Legends Skin Paint First
My Esports advice, you must understand what Skin Paint Mobile Legends is right now. So that you won't feel confused anymore, because this will make it easier for players who are really interested in getting the Skin Paint.
Enter Prep to View Skin Paint Prizes
Of course, after you already have the gift, then it's time for us to be able to receive this gift right now. As something nice and cool, of course this player can pair it with some special Heroes with this symbol.
A good and cool event like this, gives a very good gift. By having the Skin Paint, it will definitely look much cooler later. Especially with the Ling M-World Skin in Mobile Legends that has been released, of course it will give something different. Keep practicing, play wisely and don't become a toxic player!
Don't forget to follow our social media on Instagram and also subscribe our youtube channel