Mobile Legends released a lot of updates with events that seemed really good. Of course, with How to Get Graffiti Panic Gak in Mobile Legends (ML), it's very cool that you can use it right now. The better and cooler to have something like this, it can make the opponent become emotional. It's a good thing and you shouldn't miss it. Because this will be a very cool event, even give something very different when you use it to make the opponent heavy emotions.
Due to the various missions of this challenging event, you must immediately complete every thing that has appeared. So that later we can receive the gift immediately, even without this section it will make you confused because of everything that has appeared.
How to Get Panic Graffiti in Mobile Legends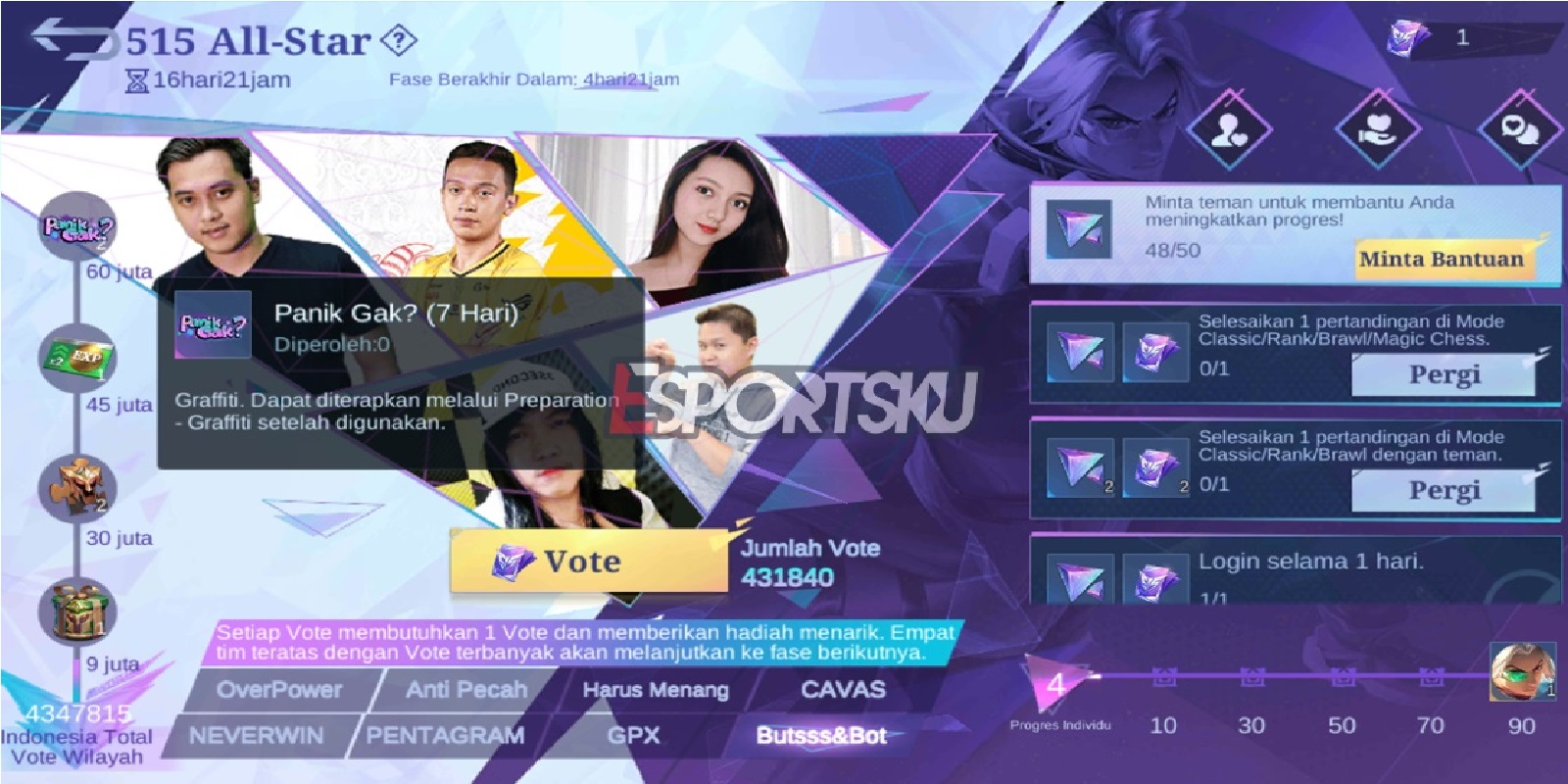 Enter the Mobile Legends game
The first step you have to enter first into the Mobile Legends game right now. This event takes place in the game from April 29 – May 23 2022, so be prepared to complete each mission.
Choose M-World Interface and All Star Event
Then next we can choose the M-World interface right now, then look there is an Event called All Star. Players just need to enter the event, so they can find the prizes and actually from this new event.
Reach Milestone of 60 Million Votes to Get Panic Graffiti
Then players must be able to reach 60 Million Votes first before getting it now. Esportsku sees that we do this Vote together, all players from Indonesia must do this during this event.
Complete Daily Quests
Then the next time you have to complete the Daily Quest from the Event, so you can get an opportunity to Vote. Of course that way you help other players and even they help us to solve all this.
Receive and Check on Prep Fitur Features
You can immediately receive this gift, then check into the feature called Prep so you can see the prize right now. Of course, with the main prize, it will certainly make a good opportunity for players right now.
A good event with impressive prizes, of course the best chance for us to have it all. Even Esportsku sees that the Graffiti Mobile Legends feature itself is indeed something that is very good for you to use later. Keep practicing, play wisely and don't become a toxic player!
Don't forget to follow our social media on Instagram and also subscribe our youtube channel